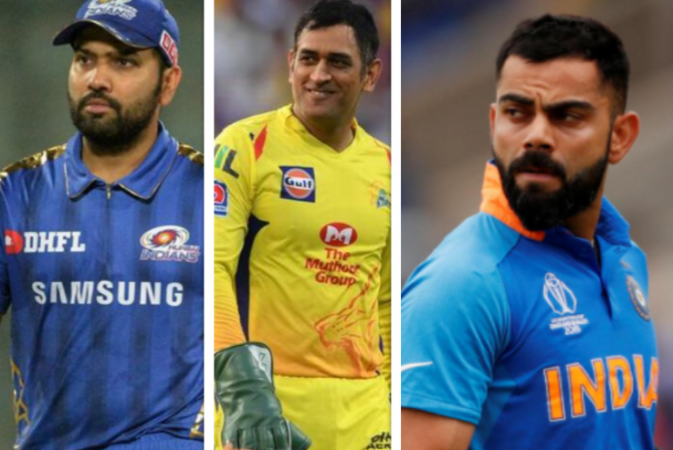 IPL brings a win-win situation for both the audience and the players. While the players make some behemoth amount of money through it, we audience get entertained for months and months. Of all the tournaments, the Indian Premier League is known for spending huge amounts of money on players. No wonder some of the cricketers prefer playing just IPL. Our Indian cricketers too take home a mammoth sum, which is far greater than what they get from BCCI annual contracts. Let's take a look at who gets paid how much.
MS Dhoni: 15 Crore
Chennai Super Kings' captain, MS Dhoni, has proved his mettle as a captain even in the IPL. Under his leadership, the Whistle Podu team has won the coveted title thrice. Dhoni has been with CSK since its inception and his fee for the 13th season of IPL is Rs 15 crores.
Virat Kohli: 17 crore
The Indian skipper remains one of the highest-paid Indian cricketers in IPL. IPL 2020 would mark Virat Kohli's eighth stint as the Royal Challengers Bangalore's captain. Though RCB has never managed to impress with their performance, it hasn't come in the way of Kohli's massive fee.
Rohit Sharma: 15 crore
Rohit Sharma has been of the coolest and most consistent captain of the IPL. Under his leadership, Mumbai Indians have won the trophy four times. Rohit had even given up the lucrative offer of receiving Rs 3 crores more than his retention price by the MI owners. He had asked them to add the money to the purse to shell out more on other strong players.
Dinesh Karthik
Dinesh Karthik, the anchor of team KKR, has remained one of the lowest-paid Indian captains. DK was brought into the team at Rs 7.40 crores. Despite the presence of England's World Cup-winning captain Eoin Morgan, DK will continue to lead KKR. He was brought into the team at Rs 5.25 crore.