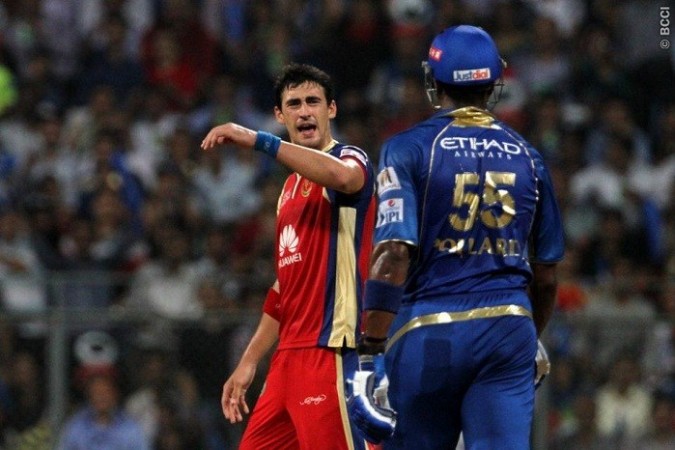 Australia vs West Indies We Don't Like Each Other Part II took centre-stage on Tuesday night, with Mitchell Starc and Kieron Pollard getting a little inspired by the Floyd Mayweather vs Marcos Maidana boxing match and deciding to have a little bout of their own on the cricket field.
With needle turning into knives, as tempers flared in both camps, it was the Mumbai Indians that eventually came out smiling with the Royal Challengers Bangalore batting lineup yet again failing to live up to their reputation, as the magic man AB De Villiers decided to have an off-day in the IPL 2014 game at the Wankhede Stadium.
Starc and Pollard had written the headlines for the next couple of days with an almighty spat in the first innings, with the latter nearly cleaning out the bowler with his bat. Despite all the furore though, the Mumbai Indians, courtesy smart knocks from Rohit Sharma and Pollard, got to 187 for five from their 20 overs after being put into bat.
In reply, Gayle and Parthiv Patel threatened to take the game away from MI, on a brilliant batting pitch, in the first six overs, before RCB's fallibilities with the bat came back to haunt them as they eventually ended on 168 for eight from 94 for one to hand the Mumbai Indians an eventually comfortable 19-run win.
RCB got off to a rip-roaring start, with Parthiv Patel and Chris Gayle taking a liking to the opening bowlers, particularly Pawan Suyal.
Suyal, playing for the injured Zaheer Khan, started the innings well enough, conceding just six runs, but his second over was an over he would have found difficult to imagine even in the worst of his nightmares.
The nine-ball effort stared with two wides, and a four from Patel, before Gayle struck a six, four, six and another four to knock the stuffing out of the left-arm pacer, who went for a massive 28 runs in the over.
RCB continued their merry way, before Lasith Malinga put an end to the boundary-hitting start with a tight fifth over, with that lull opening up a gate for the first wicket as Harbhajan Singh found a way through Patel's (26, 19b, 5x4) defences to send the left-hander trudging back to the pavilion.
RCB were still very much on course at 64 for one from the first six over, needing another 124 from 84 balls. Virat Kohli and Gayle put on a quickfire 41 from 28 balls, with both looking quite comfortable at the crease, but three wickets in relatively quick succession turned the game in MI's favour.
Gayle (38, 24b, 3x4, 3x6) was the first to go, castled by an elated Harbhajan (4-0-33-2) in the 10th over of the innings, with De Villiers, who started his knock with a brilliant reverse sweep first ball for four, falling three overs later, bowled by Jasprit Bumrah (4-0-22-2), with the pacer striking leg stump.
With De Villiers, the man who single-handedly won them the game against the Sunrisers Hyderabad on Sunday, gone, the onus was completely on Kohli, still not quite at his ruthless best in IPL 2014.
Kohli (35, 28b, 2x4, 2x6) is the supreme chaser, and you would have put your house on the RCB skipper taking his team home, but a poor stroke from the right-hander an over after De Villiers' wicket, saw him thump a catch to Corey Anderson at long-off, with Suyal (3-0-35-1) having something to smile about after that early pain.
Yuvraj Singh has not looked even remotely like his old self for a while now, and the left-hander, after a 10-ball six, was sent packing by Pollard, who showed his footballing skills, skills which would have made even Pele proud, side-footing the ball to the stumps to run out the RCB left-hander.
With four overs remaining, RCB still needed 54 runs with Riley Rossouw being their only recognised batsman, there was no chance for the Royal Challengers as MI closed out their second straight win --- with Pollard rubbing salt into Starc's wounds by taking the catch to dismiss the left-hander.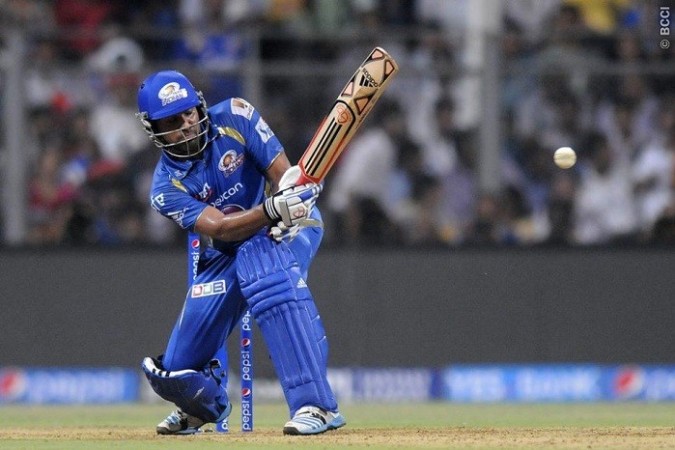 Earlier, the Mumbai Indians continued to enjoy themselves on the Wankhede pitch, putting up a big score with skipper Rohit Sharma and Kieron Pollard putting on a crucial fifth-wicket partnership.
Ben Dunk and CM Gautam opened the batting, with the Australian, yet again preferred over his compatriot Michael Hussey, unable to quite make a big enough impact, managing 15 from 14 balls, before holing out to Yuvraj Singh at mid-off off Harshal Patel.
Gautam (30, 28b, 2x4, 3x6), against his former side, looked decent in the middle, while Ambati Rayudu's nightmare IPL 2014 continued, with the right-hander castled by Ashoke Dinda, who otherwise had a get-me-out-of-here evening, going for 38 runs in just three overs.
RCB kept picking up wickets at regular intervals, thwarting MI's momentum in the process, with Gautam falling in the ninth over, an over after Rayudu's dismissal, edging one to Patel off Varun Aaron, who gave the Karnataka batsman a bit of a send-off.
The "banter" was only beginning, though, as Yuzvendra Chahal had plenty, and then some, to say to Corey Anderson, sending the New Zealand packing a couple of balls after being hit for a flat six.
MI needed a big partnership and they got it via their two main men, with Rohit (59 n.o., 35b, 3x4, 4x6) and Pollard, who surprisingly did not hit a single six in his innings of 43 (31b, 6x4, 0x6), putting on 97 together in 10 overs.
There was some good batting from both players, with the duo not taking too many risks, and biding their time before going boundary-crazy towards the end. With the intensity already at a one-more-incident-and-it-tips-over point, Pollard and Starc tipped it over the edge.
Starc, in the 17th over of the innings, bowled a brilliant bouncer to make Pollard uncomfortable with the pacer getting on with a bit of verbals, which the MI batsman did not take too kindly to.
Pollard, still hot under the collar from the previous delivery, decided to pull away at the last second, with Starc, clearly not amused by the batsman's tactics and having run all the way to the pitch, spearing the ball towards the player. Pollard lost his temper completely after that, hurling the bat at Starc, with the bat thankfully dropping at his own feet (he might have also been jus threatening to throw the bat, with the willow slipping off his hands and landing at his feet; but only Pollard will know what he actually meant).
You love to see some intensity in the game, and as long as nobody's hurt, maybe the best thing is to just let the players be, while ensuring it does not get out of hand - had the bat landed on Starc, though, the situation might have of course been different.
With tension at a fever pitch now, Rohit, who was watching the events unfold quietly form the other end, decided to make the bat do all the talking, with the captain carting Varun Aaron, one of the most impressive bowlers this season, for 24 runs, courtesy three sixes and a four.
Rohit jumped from a modest 28 from 26 to 52 from 32 with that assault, with MI unable to carry forward that momentum into the last over as Starc came up trumps again, including having the pleasure of whipping off the bails to end Pollard's innings.
But Pollard and MI would have the last laugh, as they quelled the RCB storm rather comfortably.