What you gonna do when Glenn Maxwell runs wild on you? Well, if you are in the Chennai Super Kings camp, lift your necks up, and watch the ball sail over the fence time and again and just pray the nightmare ends as soon as possible.
Maxwell, unrelenting, brutal and in full assault mode, was unstoppable yet again, for the second straight game against the Super Kings, creaming the bowlers for 90 from 38 balls with six fours and eight maximums, and with it leading Kings XI Punjab to a ridiculous 231 for four in their 20 overs in their IPL 2014 game at a packed-to-the-rafters Barabati Stadium in Cuttack.
It was not only Max-Attack, though, as David Miller (47) and George Bailey (40) also joined the party to pummel the CSK bowlers into submission, and basically finish the game after just 20 overs.
The reply from CSK was barely there, despite Du Plessis' best efforts - the South African's 25-ball 52 (7x4 1x6) paling in comparison to what transpired in the first innings -- as the former champions bowed their heads in surrender to the Maxwell and co. assault, eventually finishing on 187 for six in their 20 overs.
The win takes KXIP back to the top of the IPL table, thanks to their sixth win in seven games, while CSK drop down to second place, after suffering their second loss in eight matches in IPL 2014, both to the Punjab franchise, and first in seven.
Dwayne Smith, the main man for CSK this season, just had to play a big innings, and rival Maxwell in the six-hitting department, he just had to, for the Super Kings to stand any chance of even coming close to the target.
There was to be no thunder to be unleashed from Smith's willow, though, as the West Indian, after hitting a boundary first ball, fell in the fourth, mistiming one to Mitchell Johnson at short third man with Sandeep Sharma again impressing with the ball, picking up the big scalp.
Suresh Raina came in and played a decent little innings, but even his enterprising 27-ball 35 (3x4, 1x6) was never going to be enough, while Brendon McCullum (33, 29b, 3x4), starved for much of the strike in the early part of the innings, also never really got going anywhere near enough needed to keep up with the rate.
Once the two batsmen fell - Raina falling to the golden arm of Maxwell -- along with Ravindra Jadeja, who was sent up the order, Du Plessis and MS Dhoni (23, 20b, 0x4, 1x6) just went through the motions as KXIP eased home.
Earlier, the CSK bowlers and fielders were running for cover, and then some. Virender Sehwag got the ball, which would then turn into a snowball of massive proportions, rolling with a typically quick start as the India veteran got that blade of his thudding onto the ball perfectly to find the boundaries in the first couple of overs.
Mandeep Singh, in for Cheteshwar Pujara, could not grab his chance falling for an eight-ball 3 in the fifth over, with Sehwag's cameo of 30 from 23 (5x4, 1x6) coming to an end an over later, as the right-hander played-on off Ben Hilfenhaus.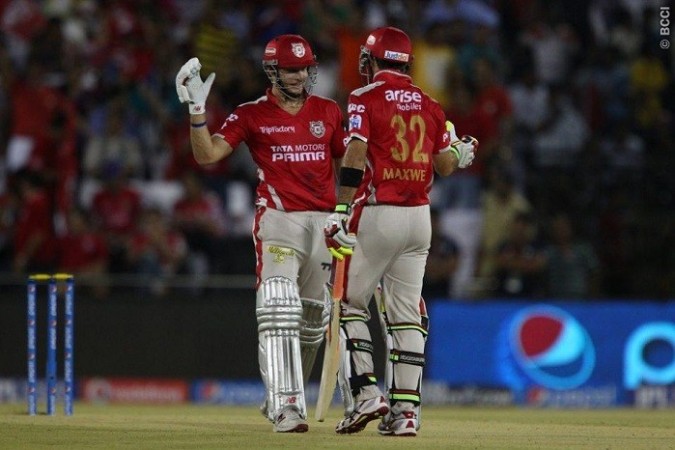 CSK and Dhoni will now be wishing they had never taken those two wickets, as it brought Maxwell and Miller together. The duo took their time initially, taking KXIP to 69 for no loss at the halfway mark of the innings.
From over 11, though, it was an assault that left the CSK bowlers bloodied, battered and bruised, wanting to just take the first flight back home. It was some unbelievable M&M show, not the sweet candy kind, but one that brought a smile and a sense of enjoyment nonetheless with the duo putting on 135 in 10.4 overs together.
The final ten overs yielded - wait for this, take a deep breath, if you haven't calculated already - 162 runs, as Kings XI went on a rampage which would have made the final battle at Hogwarts seem like a breezy walk in the park.
Maxwell, of course he was, was the instigator of the carnage, making Ashwin look like his own personal bowling machine, asking him to bowl exactly where he wants him to, to smoke the ball for one six after another - Ashwin, India's premier spinner, lasted only two overs, of which he went for 38 runs.
While Maxwell was making Ashwin look like a Sunday morning part-timer, Miller was enjoying himself with Jadeja (3-0-37-0) as the left-hander smoked the left-armer for runs after runs.
Miller (47, 32b, 5x4, 2x6) fell in the 16th over, an over in which Maxwell, reverse sweeping ball after ball over the boundary line, tonked three sixes, with Smith hitting timber.
Maxwell (90, 38b, 6x4, 8x6) did not last too long after that either, with the 90s curse hitting the explosive right-hander again, holing out to Jadeja at deep midwicket, as Mohit Sharma picked up the Kings XI slugger.
So, some sanity in the remaining 16 balls then? That's certainly what Dhoni and co. would have hoped for, but in stepped Bailey, who just invoked the spirit of Maxwell, to toast Hilfenhaus and Mohit Sharma in the final couple of overs, which went for 17 runs and 23 runs each.
Bailey ended his innings on a not-too-shabby 40 from 13 balls (6x4, 2x4) as the camera panned towards Dhoni's still calm, but undoubtedly shell-shocked face, wondering what had just happened, and how on earth his batsmen were going to get their team out of jail.
The escape route was never found, though, as Kings XI kept the CSK batsmen firmly under lock and key for a massive 44-run win.