It was said that the IPL 2014 opening ceremony would be nothing close to the previous gala affairs of the previous editions. The cost of the party was reduced and there was no official broadcasting but that didn't quell the bit of fun and entertainment as Shah Rukh Khan took the stage in the company of MS Dhoni, Virat Kohli and Shane Watson among others. It was a perfect opening for a blockbuster to follow.
The UAE, with huge amount of Indian expats, is pretty much home away from home. Hence, the welcome note by H.E. Sheikh Nahayan Mubarak Al Nahayan, Minister of Culture, Youth & Community Development, opened the evening with a point on culture and cricket. Next, it was time for Sunil Gavaskar, interim president of the BCCI/ IPL, to deliver his note. It is reported that he urged fans to keep their faith in cricket intact.
There were no more speeches delivered, the floor was open for the extravaganza. There was loud music and colourful shows that come only with the marriage of sports and entertainment. Indian actress Deepika Padukone dazzled the stage and danced to Bollywood tunes.
Shah Rukh Khan followed and set the stage on fire with his impromptu talk and humour. Rajasthan Royals' skipper Shane Watson was on stage with his guitar to sing a song. Royal Challengers Bangalore's skipper Kohli and Chennai Super Kings' skipper Dhoni ware called on stage for a chat with the Bollywood Badshah.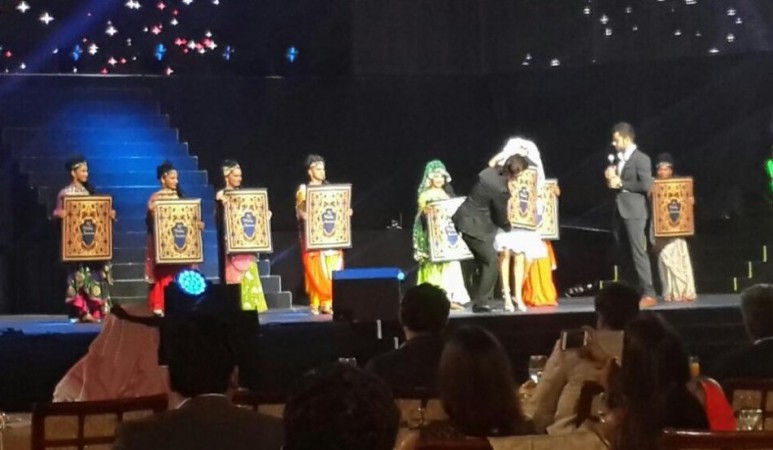 And Finally, SRK tweeted: "Big thanks to Shane, Virat & Dhoni for being so sporting on stage. Great sportsman & even greater sporting spirit. Thanks Abu Dhabi & IPL."
Delhi Daredevils fans can check out some pictures of the team at the gala party HERE.
Check videos of Dhoni and SRK on stage HERE.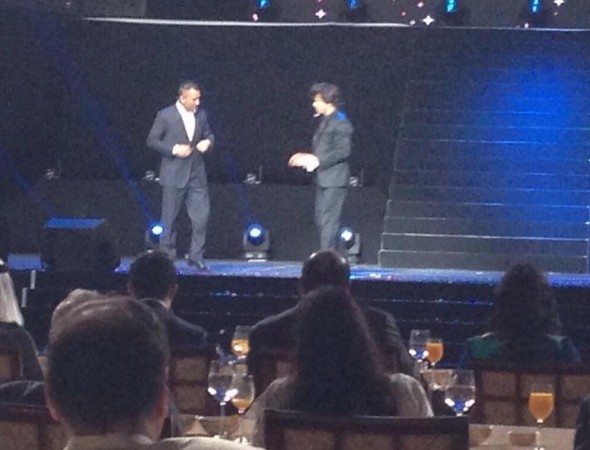 Here's a GIF image of Robin Uthappa singing some tunes during the gala dinner: