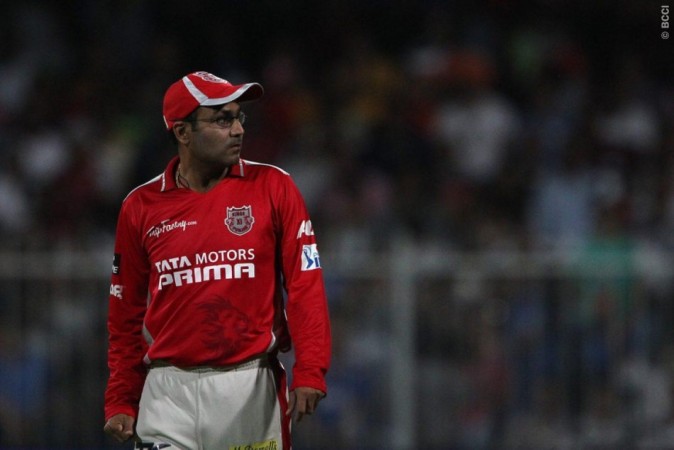 The intent to score massive scores has remained, but the execution part -- not so much. Virender Sehwag hasn't yet made a name for himself in IPL 2014, however, the nawab of Najafgarh is positive about his road ahead.
"The best is yet to come," Sehwag told IPL's official site. "I am striking the ball well and would like to continue to contribute to the team. I have been scoring 20s and 30s, but now it is time to score like the way Maxwell has been doing. Hopefully, in the coming games I will score big."
Sehwag has an average of 21.57 in seven matches with the highest score of only 37; whereas, Maxwell has been a phenomenon this season. He's the orange cap holder and has piled up runs in favour of the Kings XI Punjab.
"The kind of form he is in, it is so difficult to stop him," Sehwag said about Maxwell. "Nothing matters to him - the bowlers or the fielders or the boundary. I felt like he was playing book cricket and every time he opened a page, it was four or six. It has been great to watch him bat."
T20 cricket hasn't [given the figures] been the favourite of formats for Sehwag, but he's enjoying himself in the Punjab dugout as he keenly helps youngsters discover different aspects of their game.
"I speak a lot to the younger guys," Sehwag admitted. "We have some young Indian batsmen like Gurkeerat Singh, Wriddhiman Saha, Mandeep Singh, Manan Vohra and even Cheteshwar Pujara. They all talk to me about T20 cricket and how they can improve their game and what they should do to keep their game intact when they are not playing. I share my experience with them. It's good to chat with the young players because it makes you feel young too."
If staying upbeat is a challenge, Sehwag deals with it the best. His way of life is as simple and uncomplicated as his batting approach. "You just have to accept whatever comes your way and be happy with it," the 35-year-old added about his current form. "Things change quickly."