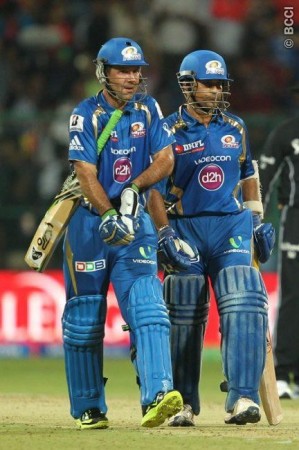 Cricket fans were treated to quite a spectacle when two of the greatest players to ever play the game - Sachin Tendulkar and Ricky Ponting - came out to open the innings together for the Mumbai Indians in their opening match of IPL 2013 against the Royal Challengers Bangalore.
And now coach John Wright has confirmed that it was not just a one-time thing, with the legendary duo set to continue their partnership for the foreseeable future in IPL 2013.
"We feel that Ponting and Sachin opening for us is currently the right thing and we've talked about it in the team," the former India coach said. "We definitely have high-skilled batsmen who can rotate the strike. But if we can combine that skill with a couple of power-hitters, we're going to be a stronger unit.
"It's great for the competition and it's a unique feature of the IPL where you have the likes of Sachin and Ponting batting together. That's why the tournament excites the fans. They too are finding it exciting to bat together, something they probably have never done before. It's also such a unique learning opportunity for the youngsters in our team."
Another of the highlights for Mumbai in the game on Thursday was the debut of young fast bowler Jasprit Bumrah, who impressed everyone by picking up three wickets, including the one of RCB skipper Virat Kohli.
"We're really happy with Jasprit's debut," Wright added. "I saw him bowl in a domestic T20 in Ahmedabad and he caught the eye. We talked to some of the people who've seen him closely and decided to pick him.
"He's got an interesting action and he's also got some pace. He will add a bit of variation in our attack. To be able to perform the way he did in his first big match in front of a huge crowd, it was a very encouraging start."
The Mumbai batting lineup looked a little disjointed against RCB, and Wright admitted the team management was still looking to find the right combination - not an easy task when you are spoilt for choice like the Indians certainly are.
"It is difficult. Sometimes, you're too spoilt for choice and everyone wants to play," Wright said. "This is probably the toughest team I'm coaching when it comes to selecting the final XI because we have a number of high-class players and they all are very keen to play.
"We're looking at our combinations. The great thing about our side is that we've got a lot of flexibility since we've got players that can play in any position.
"I know most batsmen like to bat at the top in T20 cricket but some of the more difficult positions are 5, 6, 7. It's an important task for the team management to indentify the talent and give players roles according to that."