The Mumbai Indians have been the multi-millionaire underachievers of the IPL. Not anymore.
Kieron Pollard decided to make a statement with the bat, before Lasith Malinga reminded everyone of his prowess to power the Mumbai Indians to the IPL 2013 title with a 23-run victory over the Chennai Super Kings at Eden Gardens and cue wild celebrations.
Pollard rescued the Mumbai Indians in the first innings with a belligerent 60 from 32 balls to take his side to 148 for nine after electing to bat first.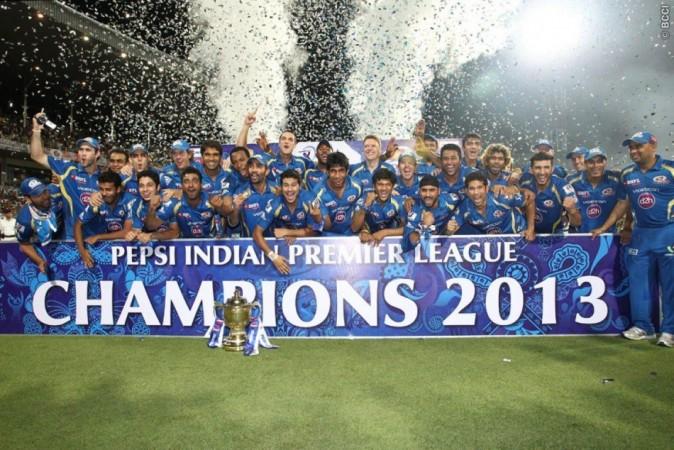 In reply, CSK, who thumped the Mumbai Indians earlier in the playoffs, completely lost the plot after Malinga (two for 22) sent their two best batsmen - Michael Hussey and Suresh Raina - packing in the first over, with MS Dhoni playing a brilliant but eventually valiant 63, only managing to take his side to 125 for nine.
With matters off the field grabbing the headlines in the past couple of days, it was up to the players in the middle to make the supporters forget about all the sagas for a few hours.
They did just that in a strangely low-key yet thrilling IPL final, with the Mumbai Indians writing the final wonderful chapter in emphatic style, to what has been a tumultuous and unforgettable IPL season.
CSK got off to a disastrous start, with their two in-form batsmen -- Hussey and Raina - falling in the first over to the "Slinger" Lasith Malinga.
Realizing the need for early wickets, Rohit Sharma gave the new ball to Malinga, who has otherwise been used in the middle overs and the final ones, and it worked wonders.
The Sri Lankan fast bowler first dismissed the seemingly unbeatable Michael Hussey with a patented swinging yorker.
Charged up after picking up the Orange Cap winner, he went one better in the very next ball, picking up Raina with a sharp short delivery, which the CSK left-hander could only fend straight to Dwayne Smith.
If things could not get worse, it did with the usually reliable Subramaniam Badrinath chasing an outswinging delivery from Mitchell Johnson (two for 19) and only managing an outside edge to Dinesh Karthik behind the wicket, as CSK stared at a daunting prospect of three for three.
It did not get any better for CSK, though, with Dwayne Bravo (15, 16b, 3x4), after a brief counter-attacking spell, falling to Rishi Dhawan, before Ravindra Jadeja and Murali Vijay (18, 20b, 2x4) followed suit thanks to some ridiculously poor shot selection.
Skipper MS Dhoni and Albie Morkel looked to put some semblance of order into place, with CSK on 39 for six, but after an 18-run partnership, Morkel (10 in 10 balls) was walking back to the pavilion after being yorked by Pragyan Ojha.
Chris Morris fell immediately after to Harbhajan (two for 14) in the 12th over as CSK teetered on 58 for eight, with only Dhoni the man standing between Mumbai Indians and their first ever IPL win.
With just two wickets in hand, CSK needed 76 runs from the final six overs, and with the best finisher in the game in Dhoni still at the crease, even the impossible was possible.
Dhoni, in the company of R Ashwin, brought the target down to 50 from 14 balls, before Ashwin fell to Pollard after an 18-ball struggle for nine.
The target was now just too stiff with CSK needing 50 from the last two overs, and even the great man Dhoni (63, 45b, 3x4, 5x6) could not manage to pull off a final miracle as the Mumbai Indians finally got their hands on their Holy Grail - the golden IPL trophy.
Earlier, it was an innings filled with hustle and bustle from the Mumbai Indians, with Kieron Pollard the only batsman that actually looked like he enjoyed batting in the middle.
Sachin Tendulkar, who announced after the match that IPL 2013 would be his final one, missed out yet again and it was down to Aditya Tare and Dwayne Smith to provide the Mumbai Indians with a solid start. It was not to be though as CSK took control right from the off, picking up three quickfire wickets.
Mohit Sharma, one of the most impressive young Indian bowlers in IPL 2013, sent the danger man Smith (4) packing, with the West Indian failing to read a nice in-swinging delivery and getting caught plumb in front of the wickets.
Tare followed suit soon after for a golden duck, playing on to his stumps off another incoming delivery, this time off Albie Morkel (two for 12).
Morkel then picked up his second wicket in his second over, sending back the dangerous Mumbai Indians skipper Rohit Sharma (2), who played an innocuous drive straight back to the CSK fast bowler.
The Mumbai Indians were reeling on 16 for three from 3.2 overs and needed Dinesh Karthik and Ambati Rayudu to build a solid partnership to allow the likes of Kieron Pollard to take off in the latter part of the innings.
That is precisely what looked like happening, with both batsmen looking comfortable in the middle, taking their time to get settled and slowly but surely brining Mumbai Indians back to, if not a position of strength, but at least a platform from where they could cause CSK some sort of harm with the final score.
However, Karthik, for the umpteenth time this season, got out after getting off to a good start, playing on to another incoming delivery from Chris Morris for 21 (26b, 3x4).
Pollard was not sent in early to protect him from the early assault as well as to make sure he will be there to tonk the bowlers at the death.
It is arguable if he should have been sent in earlier, but along with Rayudu the West Indian combined for 48 runs from 5.2 overs, with Pollard doing the bulk of the scoring - 32 to be precise.
Rayudu was the next batsman to walk back to the pavilion, with Dwayne Bravo ensuring he would be the winner of the Purple Cap with the wicket of the Mumbai Indians batsman.
Bravo would go on to pick up three more wickets against his former side to become the highest ever wicket-taker in IPL history with a staggering 32 to his name in IPL 2013 - not bad for an all-rounder, who isn't exactly known for his bowling.
Pollard, at the other end, continued his assault while Harbhajan Singh provided a quickfire 8-ball 14, bringing his outside and inside edges to full use, like only he can.
Even after Harbhajan fell to Bravo - Mumbai Indians would lose three more wickets - Pollard (60, 32b, 7x4, 3x6) did not let the wickets falling around bother him, finishing the innings off with two big sixes to push the score to 148 for nine from 20 overs.