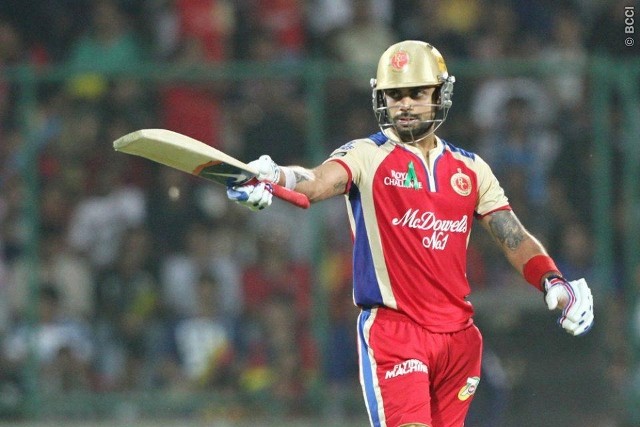 Virat Kohli mauled the Delhi Daredevils in the final overs to give the Royal Challengers Bangalore a much-needed away victory in their IPL 2013 game at the Feroz Shah Kotla.
With RCB staring at a score of around 150, Kohli (99) and AB De Villiers (32) absolutely launched into the home side's bowlers in the last four overs - which yielded a stunning 77 runs (yes, no typo there) -- to take their side to a formidable 183 for four from their 20 overs.
Out of the running for the playoffs and with nothing but pride to play for, the Delhi Daredevils never really looked like getting anywhere near the target, before Irfan Pathan (23) and Morne Morkel (19) went slam-bang in the last couple of overs to take the game close before eventually falling to a four-run loss. The home side finished on 179 for seven with Jaydev Unadkat taking an impressive five-for for RCB.
Mahela Jayawardene (19, 13b, 4x4), opening the innings with Virender Sehwag, looked good in the middle hitting four boundaries in the first couple of overs, before unfortunately inside edging one onto the stumps off Jaydev Unadkat.
Sehwag threatened to play one his vintage innings, taking R Vinay Kumar for four boundaries in one over, before Unadkat again came up trumps. Sehwag (18, 10b, 4x4) failed to read a slower one from the left-armer and ended up spooning a catch to Cheteshwar Pujara at mid-on.
Captain for the day David Warner (4) also disappointed, castled by Moises Henriques, as RCB took control by picking up the big three of the Daredevils.
The home side, on 60 for three, needed 124 runs from 13.1 overs at that point, with Unmukt Chand and Ben Rohrer coming together to combine for a nice little 58-run partnership to at least keep the Daredevils in touch.
Rohrer's 27-ball 32 (4x4) was ended by Vinay Kumar, leaving the Daredevils needing an improbable 66 from 35 deliveries.
RCB kept a tight leash on Chand and Kedar Jadhav as both batsmen soon got out in the same over. Unadkat was the wicket-taker yet again, with Chand (41, 35b, 4x4, 1x6) holing out to Vinay Kumar while going for an expansive shot.
Jadhav was gone two balls later, as Vinay Kumar took another catch at long-on with Unadkat, in for RP Singh, picking up his fourth wicket of the innings.
With the Daredevils needing 51 from the last three overs, Irfan Pathan and Morne Morkel gave it a right old go, bringing the target down to 19 from the last over with some lofty hits.
Pathan (23, 11b, 2x4, 2x6) and Morkel fell just short, though, with Unadkat (five for 25) picking up his fifth wicket of the innings in the penultimate delivery to dismiss Morkel (19, 10b, 3x4), as the Daredevils fell just short.
Earlier, Kohli played a blinder of an innings in the company of AB De Villers to push RCB from nowhere to everywhere.
Chris Gayle and Cheteshwar Pujara failed to impress at the top, with the big West Indian the first to go in the second over.
Gayle (4) played on off Irfan Pathan, just a delivery after hitting a sumptuous straight drive for a boundary.
A couple of boundaries off Pujara's (17, 17b, 3x4) blade and the Indian youngster was also taking his seat in the dugout, after missing the ball while charging down the stumps and seeing his timber disturbed by Siddarth Kaul.
Kohli was lucky to still be at the crease, after edging one to wicketkeeper Kedar Jadhav first ball off Morne Morkel, with the South African pacer overstepping the mark. And signs of it being Kohli's day increased further when Virender Sehwag dropped the RCB captain off Kaul in the seventh over with the batsman on a mere 15.
Kohli and Moises Henriques put together 57 runs in 8.2 overs for the third wicket, before a caught and bowled dismissal by Shahbaz Nadeem sent Henriques packing and brought De Villiers into the middle.
Kohli was just 37 in 35 balls at that point, while De Villiers took a couple of overs to get a grip of the pace of the pitch.
The explosion began in the 17th over with Morkel conceding 18 runs, courtesy a maximum from De Villiers (32, 17b, 2x4, 2x6) and a couple of boundaries from Kohli.
It was just some unbelievable hitting from there in, with the two RCB batsmen taking out all the frustration of losing their last game dramatically, by punishing the Daredevils bowlers with disdain.
The next three overs from Umesh Yadav and Kaul yielded 24, 12 and 23 runs, as RCB scored a ridiculous 77 runs from the final 24 deliveries.
Kohli (99, 58b, 10x4, 4x6) agonisingly failed to get to a hundred on his home ground, with the Delhiite run out of the last delivery after going for a double that was not on - but it was just a minor blip in an otherwise sound day at the office for RCB.