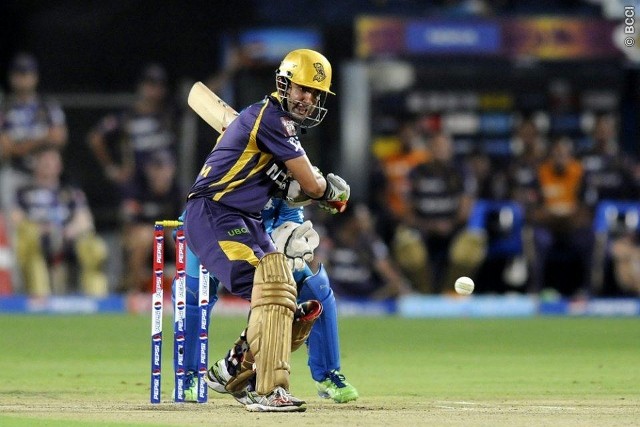 Kolkata Knight Riders are refusing to relinquish their IPL title without a fight.
A sound all-round effort from the defending champions helped them to a comfortable 46-run win over the Pune Warriors, who just want to see IPL 2013 come to an end as soon as possible.
Gautam Gambhir's half-century helped KKR to a decent 152 for six, with the total proving to be more than enough as the home side crashed to 106 all out in 19.3 overs.
KKR picked up their fifth win in 13 games, to keep their slim hopes of sneaking into the playoffs alive, while Pune Warriors stay rooted to the bottom following their abysmal 11th loss in 13 matches.
Pune Warriors just could not chart the right course towards the target, with the beleaguered side losing wickets constantly and failing to build any kind of momentum.
Aaron Finch was sent packing for just five after being castled by Jacques Kallis (two for 27), with Yuvraj Singh (1) justifying the selectors' decision to drop him from the Champions Trophy squad with another failure.
Udit Birla (7) also lasted just 14 deliveries as Pune Warriors struggled on 39 for three from a little over seven overs.
Robin Uthappa (31, 35b, 2x4) got himself a decent start, but failed to capitalize, hitting a cut shot straight to Gambhir off Iqbal Abdulla (two for 26).
Mitchell Marsh was the next wicket to go down, holing out to Manoj Tiwary at long-on off Rajat Bhatia, leaving the Pune Warriors were staring at an improbable equation of 75 runs from the last six overs.
Angelo Mathews was the lone hope for the home side, with the Sri Lankan smashing a couple of maximums to cut the target to 58 from 24 balls.
However, Mathews (40, 28b, 4x6) perished in the first ball of the 17th over, as Sunil Narine induced a false stroke, with Tiwary again completing the catch at long-on.
It was just a matter of time after that, as Pune Warriors tamely folded for 106, with L Balaji (three for 19) taking a couple of wickets in the final over, the second one a brilliant caught and bowled.
In the first innings, KKR stuttered to 152 for six, with Gautam Gambhir finally playing a decent hand before the batsmen took full toll in the final couple of overs to push the total to a defendable one.
KKR got off to a decent start, making 44 runs in their first five overs, with Gambhir in particular looking good in the middle.
Manvinder Bisla was the first batsman to be dismissed, with the opener finding himself caught out of the crease while going for a thwack across the line off Bhuvneshwar Kumar, with Mahesh Rawat whipping off the bails in a flash.
Kallis came in and did not last too long, picking out Angelo Mathews at short cover to give Parvez Rasool his first wicket in the IPL.
KKR were a tricky 52 for two in seven overs at that point, and needed Gambhir and Eoin Morgan to build a partnership before the big hitters could take centre stage in the last few overs.
Morgan, though, could not really catch fire, losing his wicket to Mitchell Marsh for a run-a-ball 15, before Gambhir (50, 44b, 6x4) also followed suit two overs later, right after completing his half-century.
KKR needed someone to take control of the innings in the final leg, and that man proved to be the forgotten and ignored Ryan Ten Doeschate, playing his first match of IPL 2013.
The all-rounder played a little gem of an innings of 31 (21b, 3x4, 1x6) to give KKR that final impetus, before Rajat Bhatia (13, 5b, 1x4, 1x6) finished things off nicely, to take the defending champions to 152 for six.