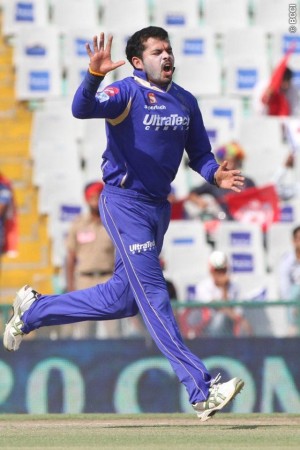 The Indian Premier League (IPL) 2013 kicked off in style earlier last month with Bollywood stars and international singer Pitbull lighting up the Eden Gardens, Kolkata. But the extravaganza took an unfortunate turn a few weeks into the game and ended in gloom.
The Mumbai Indians (MI) lifted the IPL 6 cup for the first time after beating the Chennai Super Kings (CSK) at Eden Gardens on Sunday. There was excitement all around and 60, 000 odd supporters turned up to witness the finals despite the spot-fixing scandal that led to the arrest of three cricketers and a few bookies.
IPL has never hit a low point ever since it was introduced six years ago. The arrest of three Rajasthan Royals players - S Sreesanth, Ankeet Chavan and Ajit Chandila - along with several bookies by the Delhi police in connection with the spot-fixing scandal was a big blow not only to the credibility of the IPL but also to the game itself.
The Board of Control for Cricket in India (BCCI) swung into action and suspended the three arrested cricketers in a bit to control the damage it could cause to the game. Fair enough, they deserve it, and all for the good of the game.
Then another angle of the issue unfolded after the arrest of Gurunath Meiyappan, son-in-law of BCCI chief and CSK owner N Srinivasan, for his alleged involvement in betting. He is said to be the CEO/Team Principal of CSK though India Cements said in a statement that he is only one of the members (Honorary) of the management team.
These events led to the demand for resignation of N Srinivasan and termination of CSK franchisee besides suspension of the final match between the CSK and MI on Sunday.
Srinivasan refused to step down, the final match between the CSK and MI was played as scheduled and the Chennai franchise not terminated. And this was despite the BCCI-T20 rule book that clearly says that any franchise that brings disrepute to IPL should be scrapped.
One thing that will hover in the minds of the people is the purpose of framing rules because there is no point of having rules if the authorities are not willing to implement them.
The world of cricket was rattled by a match fixing scandal a few years ago before it regained the trust of the people by taking stern action against the players involved. But it looks like BCCI is afraid to go by its rule book, thus failing to keep the integrity of the game and earn back people's trust.
The main factor that will affect the IPL in the long run is not the spot-fixing scandal but the BCCI's inaction on the issue. Rules once broken can be broken again, so not taking immediate action on the franchise that has brought disrepute to the game could haunt Indian cricket for a long long time.