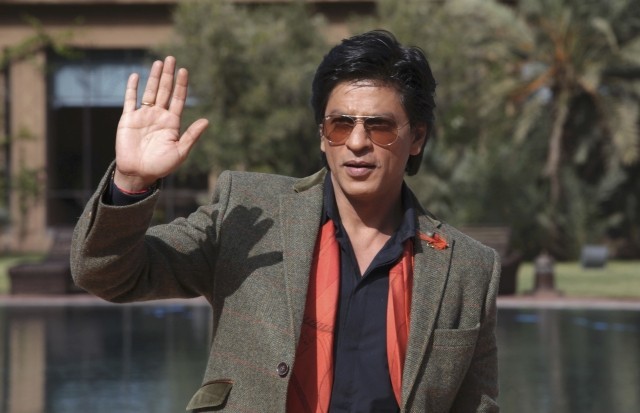 The much-awaited Indian Premier League (IPL) 2013 opening ceremony kick started at Salt Lake Stadium, Kolkata on Tuesday night amid huge expectations but it turned out to be boring and failed to live up to the expectations.
IPL fifth season champions Kolkata Knight Riders (KKR), owned by Bollywood superstar Shah Rukh Khan, had earned the right to host the opening ceremony.
Shah Rukh Khan promised a "spectacular opening ceremony" but it turned out boring with the event dragging for almost an hour before Bollywood stars like Deepika Padukone and Katrina Kaif enthralled the packed audience at Salt Lake Stadium.
The opening ceremony started with Shah Rukh reciting legendary poet Rabindranath Tagore's "Where the mind is without fear" even as a troupe of dancers performed on the stage.
A huge balloon carrying a girl with the IPL Cup descended on to the stadium and handed it to defending champion Kolkata Knight Riders captain Gautam Gambhir. The event also saw flying drummers, dozens of Chinese percussionists, fireworks and acrobatic dancers.
But at a closer look, the programme has lesser Indian elements than expected as most of the dance troupes were not Indians. Foreigners took the centre stage from the main artistes during Rabindranath Tagore's poem recitation to percussionists to acrobatic dancers to IPL Cup bearer.
Ravi Shastri took the stage in the presence of Board of Control for Cricket in India (BCCI) president N Srinivasan, IPL Chairman Rajiv Shukla and West Bengal chief minister Mamata Banerjee, and guided the captains of the nine IPL teams to sign on an electronic board.
The audience turned alive after Bollywood actress Deepika Padukone took the stage in black bodysuits before Katrina Kaif danced to the song, "Sheila Ki Jawani". Then King Khan danced to some of the biggest hit songs of his films.
Shah Rukh introduced popular singers Bappi Lahiri and Usha Uthup to the crowd before they entertained their fans by belting out some of their all-time hits. Then international rapper Pitbull hit the stage and performed some of his biggest hits.
IPL, which has been a story of phenomenal success since its start in 2008, will enter the sixth season on 3 April with the defending champions Kolkata Knight Riders taking on Delhi Daredevils in the opening game at Eden Gardens, Kolkata.
A total of 76 matches will be played between nine teams at the upcoming sporting extravaganza, which will come to a close on 26 May.
In what could be seen as a setback for the sixth season of the IPL, organizers of the tournament have decided to restrict Sri Lankan cricketers from playing the matches in Chennai after the intervention of Tamil Nadu chief minister Jayalalithaa over Sri Lankan Tamils issue.
Read IPL 2013 Schedule/Fixtures HERE