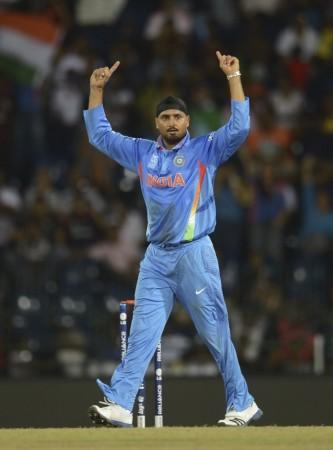 While captain of Royal Challengers Bangalore (RCB) Virat Kholi was booed for losing out to Mumbai Indians (MI) for 58 runs, Harbhajan Singh stunned the spectators by giving out a sizzling "Bhangnam" (Bhangra + Gangnam) style after dismissing Chris Gayle.
In the IPL match held between RCB and MI at Wankhede Stadium, Mumbai on Saturday, the audience called Kohli a "cheater" after his team was defeated by 58 runs.
Kohli who was taken aback by the crowd's reaction retorted, "Let them boo me. It is not the end of the world, they forget that I also play for India. It is only creating hatred among the players. When I come back and play for India, they are going to cheer for me. It doesn't work that way. You come to Bangalore and you see how Indian players are appreciated."
Kohli who also sounded hurt by the audience behavior went on to say, "...I don't know what is wrong with people in this venue. It feels a bit weird because at the end of the day you play for India and you don't come here to be hated. Whoever wins or loses, in any of the games, you come to Bangalore, every captain is cheered, every Indian player is cheered."
Meanwhile, another highlight of the match was off-spinner Harbhajan Singh's version of "Gangnam" style when he sent RCB's Chris Gayle back to pavilion when the batsman's high stroke was caught by Ambati Rayadu.
Harbhajan was seen giving a blend of "Bhangra" and "Gangnam" style on the field while his teammates rushed towards him for taking Gayle's wickets.
Commenting for his "performance" Harbhajan said, "It was important to get Chris out rather than restricting him. I thought I will toss a few up, very happy that it worked and I got rid of him. It was a good win. My dance ended up in a 'Bhangnam' style,"
RCB is one among those teams which have a good track record so far in the ongoing season of IPL by winning six of nine matches. On Saturday, the team was hit hard by the MI who won the toss and decided to bat first setting a target of 194 for seven. But RCB's chase was halted by MI at just 136 runs.
On 29 April, RCB will take on Rajasthan Royals and MI on Kings XI Punjab at Sawai Mansingh Stadium, Jaipur and Wankhede Stadium, Mumbai, respectively.
Watch Harbhajan's 'Bhangnam' style :