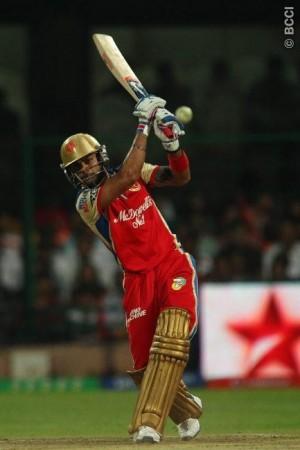 The first six days of IPL 2013 was like a Ferrari stuck in rush hour traffic, trying to weave its way through to an exit into the highway. That exit was found on Tuesday, when this season's IPL finally kicked into top gear with some style.
Royal Challengers Bangalore skipper Virat Kohli and Dinesh Karthik of the Mumbai Indians will take all the plaudits and deservedly so, because the duo were unstoppable and truly a joy to watch, as their sides posted dominating victories over the Sunrisers Hyderabad and Delhi Daredevils respectively.
Kohli started it all off with a truly brilliant 47-ball 93, while chasing down a total of over 160.
When Chris Gayle hits you for sixes and fours, you know you are being hit. But, with Kohli it isn't the same, while being equally effective.
There is that elegant subtlety to his game that sometimes you don't even realize he has reached his 50, until it pops up in front of you TV screen; you look further to see how many balls he has faced, and that surprised look when you see it is well below 40.
Don't get me wrong, Kohli can be equally brutal too -- and boy was he brutal on the Sunrisers at the Chinnaswamy Stadium on Tuesday. But, there is so much more to Kohli - even in the T20 version.
He is one of those rare batsmen in the game -- a right-hander who looks almost as good as a left-hander while in the middle.
The two sixes straight down the ground off Amit Mishra's bowling was pure poetry in motion, and if Kohli continues in a similar vein, then his rather underwhelming IPL 2012 will be forgotten sooner than a reality TV celebrity.
Onto Karthik's innings now. It was almost as if the Tamil Nadu man had taken it upon himself to better Kohli's innings and take the night's best player honours - he did leave the match with the Orange Cap, which Kohli held for only a little over three hours after his heroics in Bangalore.
The right-hander was arguably in a tougher situation, having seen both Ricky Ponting and Sachin Tendulkar walk back to the pavilion with just one run on the board. But just like counter attacking is one of the best aspects to watch in football, counter punching in cricket is the same.
Karthik hardly put a foot wrong in his 48-ball 86, with some glorious pulls shots punctuating the authority of his innings, as the Delhi bowlers, over the moon after their strong start, looked dazed and confused at what had suddenly hit them.
Credit must also be given to Rohit Sharma, who played a responsible innings and gave good support to Karthik at the other end, before unleashing some outstanding shots himself once his partner lost his wicket.
IPL 2013 was in slumber for the first few days - even if there might have been a few low-scoring thrillers - but the blades of Kohli and Karthik acted as a perfect reigniting cup of coffee, with the aroma, hopefully, set to awaken the rest of the magical sword-wielding knights of this season's T20 extravaganza.