Apple iPhones are known for their expensive price tags, but some retailers tend to offer attractive discounts to lure buyers. In this case, Sangeetha Mobiles is widely promoting a new offer on all iPhones, including the critically-acclaimed iPhone X. As per the scheme, interested buyers can get flat 50 percent off on iPhone X.
Too good to be true? The answer is a Yes and a No. The deal is very much real, but it comes with a fair share of caveats. Following a recent custom duty hike on iPhones, the price of iPhone X 64GB was spiked to Rs 95,390. But Sangeetha Mobiles – an offline chain of mobile retail stores in India – is claiming that it can offer the same model at just Rs 47,699.
Now for the caveats, the effective price of iPhone X 64GB is derived from a bundle of offers via EMI, exchange of old phone and cashbacks. Sangeetha Mobiles is also offering the iPhone X 64GB at the best price of Rs 86,190, which is a flat Rs 9,191 off of its MSRP, a sales representative at a Bengaluru-based outlet told International Business Times, India.
Furthermore, if you are an HDFC card holder or HDFC consumer loan customer, you'll get a cashback of Rs 12,000 on EMI transaction. In addition to that, the retailer is offering 5 percent discount on EMI transactions, which add a further discount of up to Rs 1,500 to the iPhone X's price. Both cashbacks will be processed within 90 days from the day of purchase.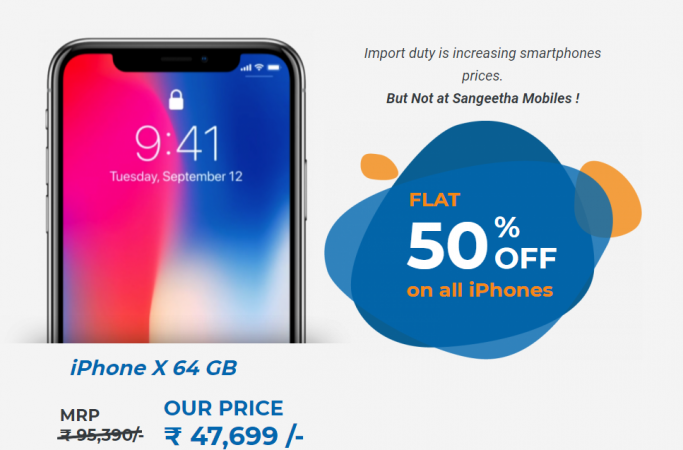 With these discounts, the iPhone X's price comes down to Rs 72,690. But the biggest discount comes when a buyer chooses to trade in their existing premium smartphone. As per the retailer's offer page, in order to get close to the effective price of Rs 47,699 for the iPhone X 64GB, a buyer must exchange a minimum model of iPhone 7 32GB.
Higher the value of the exchanging model, higher will be the discount. To get more clarity on the offer, we reached out to a Bengaluru-based Sangeetha Mobiles store. Here's a break-up of how Sangeetha Mobiles is offering iPhone X 64GB at Rs 47,699.
Sangeetha Mobiles iPhone X offer break-up
iPhone X 64GB MSRP
Rs 95,390
Sangeetha's iPhone X price
Rs 86,190
HDFC cashback on EMI transaction
Rs 12,000
Additional discount on EMI
Rs 1500
Exchange value for old iPhone later than iPhone 7 32GB
Up to Rs 25,000
Effective cost of iPhone X 64GB
Rs 47,699
Sangeetha Mobiles expects the exchanging model to be in pristine condition. The "used phone should be under warranty period since the purchase and the display/screen of the used product should be intact, that is without any scratches, cracks, discoloration, spots, lines, dead pixels, or any other damage of any manner. Please remove any scratch-guard, screen-guard, tempered-glass, or other protective covering applied to the screen of the used product device," the retailer notes.
If these applied conditions do not work in your favor, but you still desire to buy an iPhone X, we have an alternate solution.
Flipkart is hosting a promotional sale for all Apple products and calling it Apple Days sale. During the sale, Flipkart is offering discounts on all major iPhones, which also include the iPhone X. In partnership with ICICI Bank, Flipkart is offering a cashback of Rs 10,000 on purchasing iPhone X on EMI, which brings the cost of the 64GB variant from Rs 89,000 to Rs 79,000.
In addition to this, Flipkart is offering Rs 6,001 flat discount, which lowers the cost of the iPhone X after all discounts to Rs 72,999. Interested folks can also exchange their old smartphones to get up to Rs 18,000 off on select models.
Flipkart's Apple Days sale started on February 12 and it goes on till February 15.