Apple's smartphone battle had been with Android OEMs, but the launch of iPhone X changes everything. The most-expensive iPhone ever made is pitted against one of its own premium iPhones launched on Tuesday.
Ever since Apple released iPhone 6 series, the biggest decision buyers had to make was to choose between the standard iPhone and the Plus size model. Depending on the requirement, buyers could easily make the choice. But Apple just made this decision making a whole lot tougher.
This year, Apple launched three new iPhones, iPhone 8, iPhone 8 Plus and the iPhone X, to offer a wider range of choice to consumers.
Apple iPhone X is a fantastic flagship. But it's not fair to give all the importance to the new bezel-less iPhone when we have iPhone 8 Plus in the portfolio. We needn't remind you of the iPhone X's price, for which Apple is being trolled mercilessly on social media. $1,000 or over Rs 1 lakh for the iPhone X is a bit too much, but Apple has made sure it justified the price tag.
Apple isn't forcing you to buy the iPhone X. There's a choice, which won't leave you disappointed. If you're longing for an upgrade and evaluating your finances to buy the iPhone X, we'd advise you to take a step back and think...
Sure, looking at the rising smartphone prices, one might think spending Rs 1 lakh isn't a big deal. That said, iPhone has comparatively cheaper options – iPhone 8 and iPhone 8 Plus – starting at Rs 64,000 and Rs 73,000, respectively.
Before the phones are officially available in the market from September 29 onwards, let's quickly guide you to the right iPhone.
iPhone X is great, but don't just fall for the glory.
Design & Display
The iPhone X takes a massive lead here. We haven't seen this level of transformation in any iPhone since the iPhone 6. The new iPhone X has an edge-to-edge screen with 5.8-inch display and 2436x1125 pixels. There's an OLED display on board, which makes blacks more black and whites whiter to give you the best clarity. Fun fact: iPhone X is the first ever iPhone to have an OLED display.
The design of the iPhone X is too impressive. There's glass on both sides and surgical grade stainless steel for the frame. It's elegant and futuristic and it's not easy to ignore this masterpiece.
Moving on to the iPhone 8 Plus, the display (size and resolution) is same as the iPhone 7 Plus. No surprises there. But Apple did woo everyone with the design. The iPhone 8 Plus (and iPhone 8) comes with glass on back. Durability comes from the aerospace-grade aluminium band; and goodbye antenna lines.
Thanks to the new design, both iPhone X and iPhone 8 Plus are splash, water and dust resistant with IP67 certification.
Unless you are hell bent on getting that edge-to-edge display design, we'd say the iPhone 8 Plus is going to satisfy you just as much.
Camera
Our favourite. The camera on both iPhone X and iPhone 8 Plus will want you to ditch your DSLR cameras. There are two 12MP sensors on both phones at the back. The iPhone X has a vertical setup while the iPhone 8 Plus has the horizontal setup like the iPhone 7 Plus.
But both cameras pack features like OIS, quad-LED True Tone flash, Portrait mode and Portrait Lighting (beta), optical and digital zoom and much more.
The FaceTime camera hasn't been upgraded from the previous gen models. Both phones have 7MP front-facing snappers with Retina flash, f/2.2 aperture, auto image stabilization and more.
If camera is one of the reasons for you to pick up Mr. X, you'll find everything you need in the iPhone 8 Plus.
Performance
A11 Bionic chipset with 64-bit architecture, Neural engine and M11 motion co-processor run the show on both iPhone X and iPhone 8 Plus. In terms of battery, the iPhone 8 Plus lasts about the same as the iPhone 7 Plus, which we would say up to 8 hours with mixed usage. No improvements there.
However, the iPhone X is expected to last 2 hours longer than the iPhone 7.
But both phones have Qi wireless charging and fast charging support, which is great. Charging both phones up to 50 percent will only take just 30 minutes.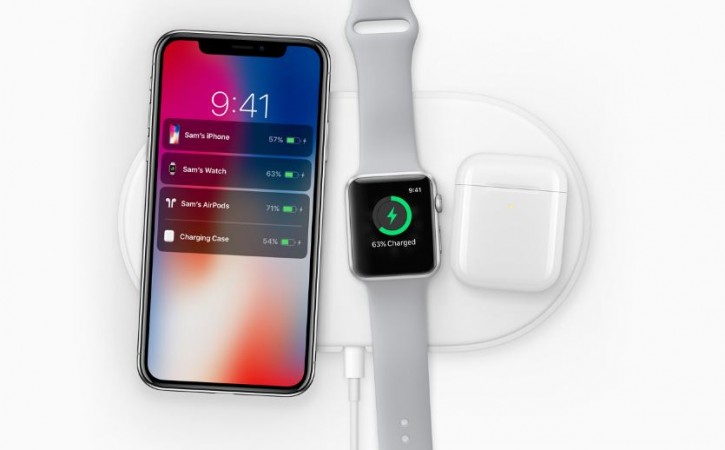 Security
The iPhone 8 Plus gets the usual Touch ID security and it is expected to work just as great as it did in the previous model. But the iPhone X is futuristic. No Home button, no Touch ID. Apple replaced it with FaceID, and as the name suggests it scans for the face to authenticate the real owner and unlock the device. The demo shows FaceID works just as fast as Touch ID, which we will be able to confirm once we review both phones.
iPhone X or iPhone 8 Plus
We are extremely tempted to recommend the iPhone X, but the price tag certainly is a niggle. If you're looking for your money's worth, iPhone 8 Plus must be your choice. But iPhone 8 Plus cannot replace the new screen, which is a lot better than the iPhone 8 Plus, and FaceID, which is by the way quite cool.