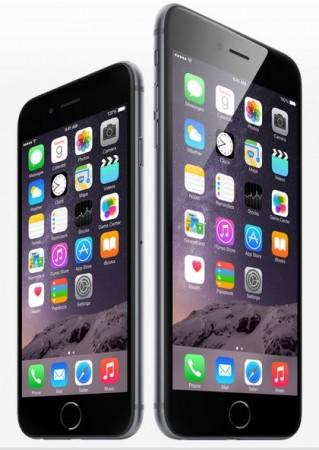 Smartphone makers seem to have cultivated the habit of releasing flagship devices without much innovation off late but this has to change as public can't be fooled for long. There is no significant change in the iPhone 6 and iPhone 6 Plus, except a few feature upgrades, including increased screen size, from its predecessor, so Apple fans will expect major change in the upcoming iPhone 7.
Apple Inc is expected to release its next-generation smartphone dubbed as the iPhone 7 in the third quarter of this year after its predecessor completes one-year cycle. The Cupertino giant is also expected to launch the iPhone 6s and Apple Watch this spring before the arrival of iPhone 7.
According to reports that have surfaced so far, iPhone 7 is expected to come with several feature upgrades but Apple fans may want more. Here are five features that will please gadget lovers:
1) Screen Resolution: The iPhone 6 sports a 4.7-inch display with 750x1,334 pixels screen resolution (326 ppi pixel density), but its counterparts like Samsung Galaxy S5 has 1,080x1,920 pixels screen resolution (432 ppi pixel density) and the Nexus 5 has 1,080x1,920 pixels (445 ppi pixel density). So, Apple fans will expect the iPhone 7 to come with much better screen resolution.
2) MicroSD Card: The iPhone 6 has 16/64/128 GB internal memory and 1 GB RAM, but no microSD card unlike its arch-rival Samsung device. Apple fans, who need more storage capacity, may want microSD card but the company is very unlikely to introduce it in the iPhone 7. Moreover, fans will expect more RAM, as it enhances multi-tasking.
3) Sapphire Crystal Glass: There were rumours that the iPhone 6 screen would be protected by sapphire crystal glass but Apple fans were left disappointed as it was not seen when launched. Now, speculations have started again that the material would be introduced in the upcoming iPhone 7.
4) Waterproof: Many phones end up getting damaged after falling into water, so Apple fans will expect the iPhone 7 to be waterproofed similar to Samsung Galaxy S5.
5) Battery: One of the features of iPhone that users have been constantly complaining all these years is short battery life. The iPhone 6 and iPhone 6 Plus came with improved battery but that was not enough. iPhone users will be pleased if the upcoming iPhone 7 come with a battery that can last for about two days but that is unlikely.
Meanwhile, reports have claimed that the iPhone 7 will have several feature upgrades over its predecessor. It is expected to be powered by an A9 processor; come packed with 2GB RAM and house a 14mp main camera and 4mp front snapper.