This year will witness a fierce battle between Apple Inc. and Samsung Electronics, with both companies scheduled to release their new flagship smartphones - iPhone 6 and Galaxy S5. And hence, comparisons between the two are bound to happen.
If the expected specifications put out by South Korea's brokerage KDB Daewoo Securities is anything to go by, Galaxy S5 has an edge over iPhone 6, though both companies have not officially revealed the features.
According to KDB Daewoo Securities' note to the investors (translated by Oled Display), iPhone 6 will sport a 4.7/4.8 or 5.5″ display with a 1920x1080p (440ppi), or a 2272×1280 (510ppi) IGZO Display and will be powered by A8 chip (64-bit) with iOS 7.2. It is expected to come with a 3,200mAh battery.
Meanwhile, Galaxy S5 is expected to sport a 5.2 or 5.25-inch AMOLED display with WQHD 2560x1440 (560ppi). It will be powered by 2.5Ghz Snapdragon805 (main) or 2.0Ghz Octa-core Exynos6 (64-bit) and will feature Android 4.4 KitKat. It is expected to come with a 1,800mAh battery.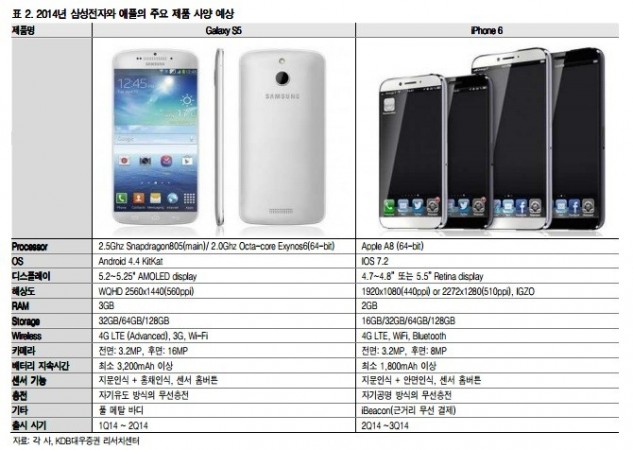 iPhone 6 is expected to be released in the second or third quarter of 2014. Chinese Analyst Sun Changxu had told QQ Tech website that the production of the next-generation smartphone would start in May, before its launch in June. Jefferies analyst Peter Misek also said that the device might be launched in June this year.
On the other hand, the South Korean electronics giant is expected to launch Galaxy S5 at the Mobile World Congress (MWC) in Barcelona on 24 February. Samsung has announced that "Samsung Unpacked 2014 Episode 1" will be held at Centre Convencions International Barcelona (CCIB) on 24 February, giving a clear hint that its upcoming smartphone would be released this month.