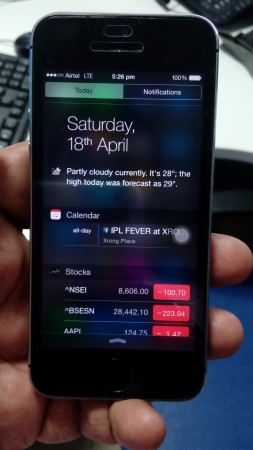 Though Android operating system's more open nature provides several customization options, your iPhone devices also offers similar tweaks, tips and tricks which might empower your devices from several aspects. The tips we are writing here has been discovered on an iPhone 6 device, but that doesn't mean it won't work with any other Apple-made devices.
In fact, these below written tips and tricks can work with all Apple manufactured iOS 8.x based devices, whether it's an iPhone, iPad, or iPod Touch. You can benefit even if you own a jailbroken iOS device. So, here we go:
Vintage Classics
You can turn your iPhone device's display into monochrome. This tip can transform your entire display, icons, texts and notifications into black & white. Apart from transforming your iPhone eccentrically, the tip can also boost the device's battery life. So, this tip will come handy, especially when your device is running out of battery. For accessing this feature, navigate to Settings>>General>>Accessibility and turn on the GrayScale option. Once activated, the display will turn on the black and white mode. For getting back the coloured display toggle the option to off.
Notification Screen Colour customisation
In the latest iOS notification menu, all the options are plotted on a translucent background. The real time background looks good to some, while a few others feel the text would be more readable if the option appears on a solid dark background. Well, iOS offers you to control that as well. Just navigate to Settings>>General>>Accessibility and look for the Increase Contrast menu and inside the menu click on the Reduced Transparency toggle.
Battery Usage Details
The iOS 8.x offers you a detailed battery consumption report where you can check which application is eating up most of your battery life. Navigate to Settings>>General >>Usage and click on Battery Usage.
Get the Battery Meter on Home Screen
In iOS 8.x, you can get a battery percentage icon on the top right of your display prompting available battery life in percents. To activate this option, navigate to Settings>>General >>Usage and turn the Battery percentage toggle on.
Add Photos into your Notes
Apple has added this feature on iOS 8, so if you own an iOS 8+ device you can now add photos into your notes. For adding photos, open any of your notes and tap where you want to insert the photo. From the pop-up menu, choose Insert Photos.
Change the Menu Colour
In iPhone 6 devices, the default colour behind the back of every menu is usually white. But you can change the background colour if you want to. For doing that, head to Settings>>General>>Accessibility and turn on the Invert Colour toggle. Once turned on, the entire menu texts turn white on a black background.