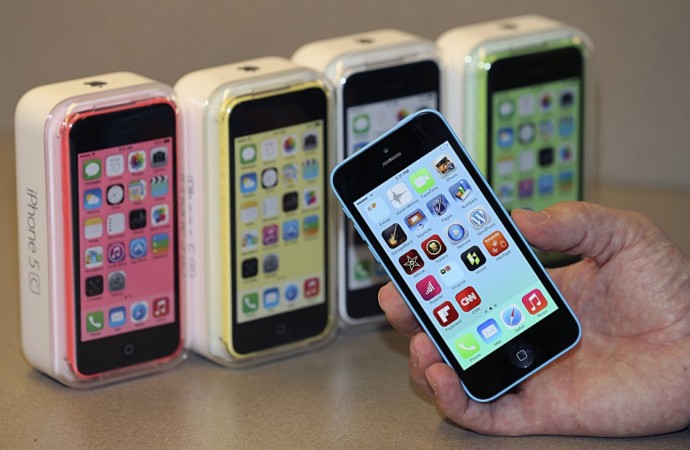 Apple Inc. has not announced the release date of its upcoming flagship smartphone iPhone 6 yet, but a couple of concept videos of the device have suggested that there are few features similar to that of the Samsung Note series.
The concept videos of the flagship smartphone dubbed as iPhone 6 Pro by designer Sahanan Yogarasa (Scavids) for ConceptsiPhone have suggested that the device could have at least a couple of features like Stylus and iController, that can project video games and films on walls, which are expected in Samsung Galaxy Note series. The videos also highlighted heart rate monitor, a feature seen in Samsung's recently launched smartphone, Galaxy S5.
iPhone 6 is ultra-thin device with 16MP rear camera and 3MP front camera; powered by Apple A9 chip and runs on iOS 8; and packs 3 GB of RAM, according to the concept videos by Sahanan Yogarasa.
According to earlier reports, iPhone 6 is expected to come in two models with full scratch-free sapphire crystal glass screen. The device may sport a 4.7/4.8 inch or 5.5 inch display with a 1920x1080p (440ppi), or a 2272×1280 (510ppi), powered by the A8 chip (64-bit) and run on iOS 7.2, according to South Korean brokerage KDB Daewoo Securities. Chinese analyst Sun Chang Xu had posted on her Weibo page, citing a friend from MEMS (microelectromechanical systems), that Apple is planning to introduce sensors that can detect pressure, temperature and humidity.
Apple Inc. has been keeping mum on the release date of its upcoming smartphone, but several reports have suggested that it would happen this fall. Mass production of the 4.7-inch model is expected to start in July, while the larger 5.5-inch variant will go into production a little later, according to Japanese website EMSOne (Google translation), citing Taiwanese newspaper, Industrial and Commercial Times.
Nikkei claimed that the device would be launched as early as September. A research note from UBS Managing Director Steve Milunovich (via Barron's) suggested that the 4.7-inch variant of iPhone 6 would be launched either in August or September, but the 5.5-inch model may or may not be released at the same time, while Reuters reported citing sources from the supply chain, that the 4.7-inch screen model would be unveiled this autumn, and the 5.5-inch version a little later.
iPhone 6 Pro: 3D render video
iPhone 6 Pro (iController)
(Ed:AJ)