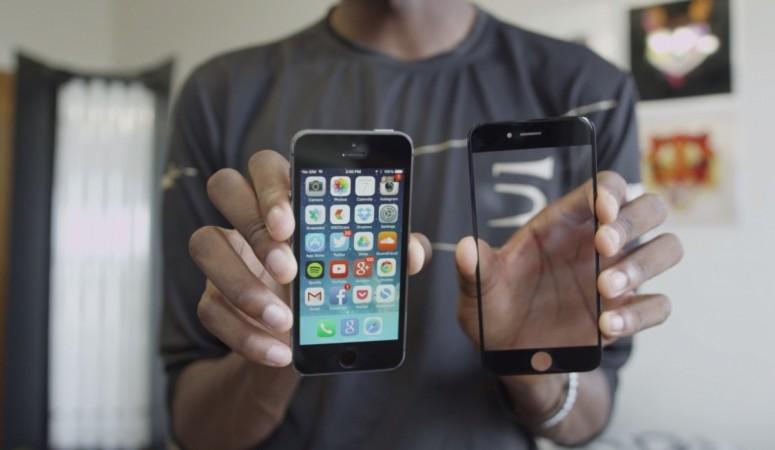 Apple Inc. hasn't revealed the release date of its upcoming flagship smartphone dubbed as iPhone 6 but the hype around it is unbelievable with its features been leaked to the media one after another months before it is unveiled. What has caught the curiosity of its fans is its venture into big screen handsets, pitting against Samsung Galaxy Note 4.
Apple Inc. is expected to launch two models of iPhone 6 – a 4.7-inch and a 5.5-inch - in September, according to reports. German website, ApfelPage has claimed, citing leaked internal documents of German wireless carrier Deutsche Telekom that it will be unveiled on 19 September.
The Cupertino giant's larger model of iPhone 6 – 5.5-inch – will take on the likes of the Samsung Galaxy Note 4 in the market. Interestingly, both the devices will be released at around the same time.
It is not going to be easy for Apple to compete with Samsung in the big screen handset market, but it looks like iPhone 6 will survive in the competition. Here are a few reasons why Apple's flagship device should beat Galaxy Note 4.
Processor: iPhone 6 is expected to be powered by a 20-nanometer A8 chip (64-bit) processor, while two models of Samsung Galaxy Note 4 are expected to come with Qualcomm Snapdragon 805 and Exynos 5433 8 Core.
Screen: Galaxy Note 4 will be protected by Corning Gorilla Glass 3 while iPhone 6 will be have sapphire crystal glass screen, which is unbreakable and second only to diamond in hardness.
Display: Galaxy Note 4 may sport a 5.7-inch super Amoled display while iPhone 6 will come with only 5.5-inch display. However, curiosity on Apple's new device is huge as it is venturing into big screen market for the first time. Many are of the opinion that the Apple device with big screen would be a hit.
Loyal Customers: Going by the reports, Galaxy Note 4 may have several superior features like memory, battery, screen resolution and camera, but one cannot deny that Apple has a huge number of customers who are loyal to its products. Loyalty will help its sales when it hits the stores.
Apple Inc. may launch two models of iPhone 6 – the smaller variant may come with a 1920x1080p (440ppi) resolution, while the larger model may feature a 2272×1280 (510ppi) resolution, according to KDB Daewoo Securities. It may run on iOS 8 that was released recently with an 8MP camera with several upgrades, including flash and Optical Image Stabilization.
A report by Forbes (via Mobile.it168) claimed that the 4.7-inch model of iPhone 6 may come with a 1,800 mAh battery, an upgrade from 1,560 mAh found in the iPhone 5S, and 5.5-inch model may have a 2,500 mAh battery. The device may feature sensors that can detect pressure, temperature and humidity, according to Chinese analyst Sun Chang Xu. Apple Insider also reported, citing analyst Ming-Chi Kuo that the smartphone may feature low temperature polysilicon in-cell touch panels, Touch ID fingerprint security, NFC and metal casing.