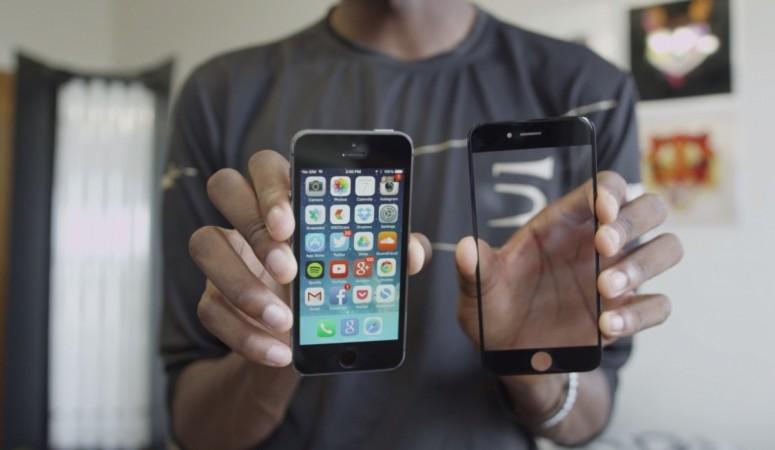 Apple Inc. hasn't revealed the release date of its upcoming smartphone dubbed as iPhone 6 but several reports have claimed that it will make it to the stores next month. Hype around the device is huge, as it is expected to come with a much bigger screen – 4.7-inch display – an upgrade from iPhone 5s' 4-inch screen, but fans may still be left disappointed if it comes with the rumoured battery.
Apple fans are excited by the prospect of owning iPhone with a bigger display soon, as two models of iPhone 6, one with a 4.7-inch screen and the other with 5.5-inch, are expected to be unveiled and released in September. Many users had earlier expressed their disappointment over the company's stand on sticking to handsets with smaller screen.
The increase in the screen size will surely please Apple fans but that alone seems to be not enough, as users have long complaint on short battery of iPhones. A recent survey by mobile discount aggregator WalletHero had revealed that 97 percent of respondents want iPhone 6 to have a longer battery life.
Well, the next-generation smartphone may come with an improved battery but it may not be enough to please the users. According to a report by G4Games (via Weibo), Sung Chang Xu, News Chief Analyst at ESM-China, claimed citing sources from her supply-chain that the 4.7-inch model of iPhone 6 will house a 2,100 mAh battery. She went on to say that the 1800mAh battery spotted in earlier leaked pictures was used only for testing purposes and not the real one that will come with the device when it is released.
Forbes (via Mobile.it168) had earlier reported that the 4.7-inch model of iPhone 6 battery will be upgraded from 1560mAh found in the iPhone 5S to 1,800 mAh, while the 5.5-inch model may have a 2,500 mAh battery.
Apple Inc. may think the upgrade from 1560mAh found in the iPhone 5S to 2,100 mAh battery is enough but most gadget lovers will know that it is still not on par with its competitors. The fact is, Samsung Galaxy S5 has Li-Ion 2,800 mAh battery, Nexus 5 – 2,300 mAh, LG G3 – 3,000 mAh, Sony Xperia Z2 – 3,200 mAh, HTC One M8 – 2,600 mAh and Motorola Moto X – 2,200 mAh.
The Cupertino giant may still need to work on improving battery life of its upcoming flagship smartphone despite its new operating system, iOS 8 expected to help extend the phone's battery life by giving users the option to switch off the apps that consume more power. However, this feature has been in Android devices for a long time now.
iPhone 6 is expected to be powered by a 20-nanometer A8 chip (64-bit) processor and house an 8MP camera with several upgrades, including flash and Optical Image Stabilization among several feature upgrades. Reports claimed that the device will be unveiled on 19 September before releasing it 10 days later.