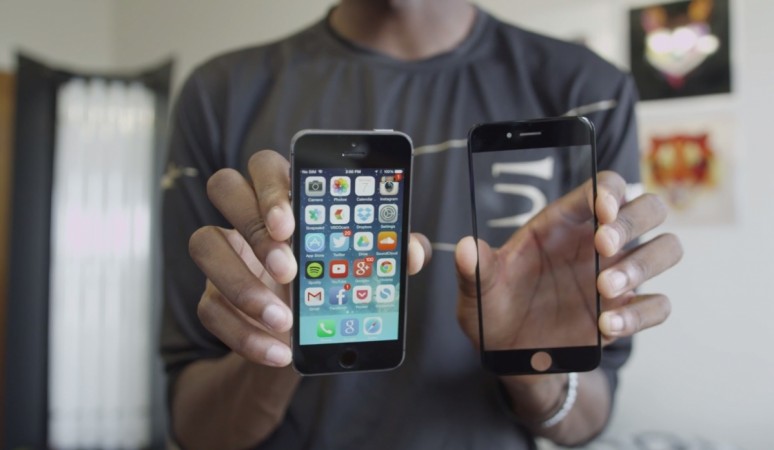 Speculations on the expected features of Apple's upcoming flagship smartphone dubbed as iPhone 6 have turned rampant with its release date drawing near. It is reported that the new device will have several features superior to its predecessor, iPhone 5s, including a much slimmer and lighter frame.
According to a report by The Week, several commentators are of the opinion that the iPhone 6 might come with a super-slim frame with a depth of just 6mm while leaked specifications by Amazon claimed that it would be 7mm thin compared to 7.6mm frame seen in iPhone 5s.
It was also speculated that Apple Inc. might turn to Liquidmetal to ensure that the super-slim handset is more durable and lighter than its predecessor. It is not sure if the Cupertino giant will introduce Liquidmetal in iPhone 6 and its practicality could be questioned by many but it can't be ruled out totally. Atakan Peker, one of the inventors of the Liquidmetal alloy, had told Business Insider a couple of years ago that cases made of the alloy would be possible by mid-2014.
Interestingly, Apple Inc. has the exclusive rights to use the alloy in its gadgets since 2010, according to Business Insider. The use of Liquidmetal has been limited to small components till date, so some reports suggested that it would be used only in buttons and switches of iPhone 6 even if Apple decides to introduce it.
So, what is Liquidmetal? Atakan Peker told Business Insider in an interview in 2012 that it is the "trade name for a new class of metallic alloys. The alloys have a unique atomic structure, more like glass, and are commonly known as bulk metallic glasses or bulk amorphous alloys."
It is reported Apple Inc. may launch two models of iPhone 6 - 4.7-inch and 5.5-inch display - with sapphire crystal glass screen. The smaller model may have a 1920x1080p (440ppi) resolution while the larger variant may feature a 2272×1280 (510ppi) resolution, according to KDB Daewoo Securities. Both the models are expected to be powered by a 20-nanometer A8 chip (64-bit) processor and run on the latest iOS 8. It will have an 8MP camera with several upgrades, including flash and Optical Image Stabilization.
Forbes (via Mobile.it168) had reported that the 4.7-inch model of iPhone 6 battery will be upgraded from 1560mAh found in the iPhone 5S to 1,800 mAh, while the 5.5-inch model may have a 2,500 mAh battery. However, G4Games (via Weibo) reported that the 4.7-inch model of iPhone 6 will house a 2,100 mAh battery.
A report by Apple Insider citing analyst Ming-Chi Kuo claimed that iPhone 6 may feature low temperature polysilicon in-cell touch panels, Touch ID fingerprint security, NFC and metal casing. Chinese analyst Sun Chang Xu also claimed that the device might feature sensors that can detect pressure, temperature and humidity.
iPhone 6 Release Date:
There are conflicting reports on the release date of iPhone 6. German website, ApfelPage had earlier reported citing leaked internal documents of German wireless carrier Deutsche Telekom that the device might be unveiled on 19 September. However MacRumors reported citing a source having knowledge of an internal Apple Retail Store meeting that Apple Inc. might unveil its upcoming device on 16 September before releasing it on 14 October. It added that a senior Store Leader mentioned the date would be an "immense" day for Apple and the month of October would be busy for both the company and its stores.