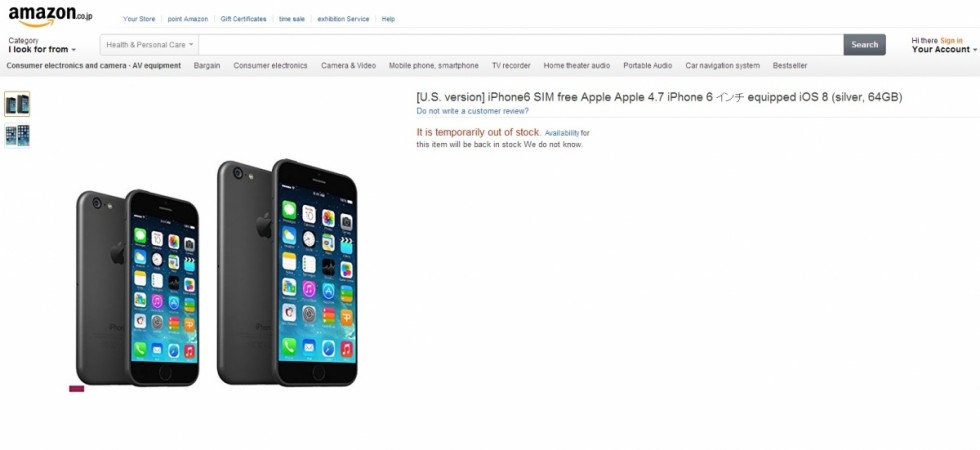 In what could be seen as a cheap publicity stunt, popular online retailer, Amazon has listed Apple's much-hyped flagship smartphone dubbed as iPhone 6 even before the Cupertino giant announces the release date of the device.
Amazon Japan has surprised many by not only listing the 4.7-inch model of iPhone 6 but also revealing a few specifications of the device. According to the retailer, the smartphone will run on the iOS 8 operating system, have 64GB internal storage memory and made available on 30 September.
It may be mentioned that the specifications of iPhone 6 cited on Amazon Japan were in sync with the ones reported in several sections of the media. The release date also matches earlier reports, as the device is expected to be unveiled in mid September before hitting the stores by the end of the month.
However, what may buffle followers of iPhone 6 is its listing before Apple's announcement on the product. Amazon had earlier listed popular video game, Mass Effect 4 before its developer Bioware announced its arrival.
According to reports, Apple Inc. will release two models of iPhone 6 – a 4.7-inch and a 5.5-inch variant in the third quarter of the year. German website, ApfelPage reported that the device might be unveiled on 19 September, citing leaked internal documents of German wireless carrier Deutsche Telekom. In another report, Macrumors claimed citing a source that iPhone 6 is expected to be announced in the first or second week of September before releasing it a few days later.
Giving a strong hint that iPhone 6 might see the light of the day in September as speculated, Apple Insider has reported citing a report from Hong Kong that Chipmaker Taiwan Semiconductor Manufacturing Co. has started mass production of Apple's processors 20-nanometer A8 chip (64-bit) and that they are making way to assembly plants.
According to KDB Daewoo Securities, the smaller variant of iPhone 6 may come with a 1920x1080p (440ppi) resolution, while the larger model may feature a 2272×1280 (510ppi) resolution. Apple Insider reported citing analyst Ming-Chi Kuo that the devices may feature low temperature polysilicon in-cell touch panels, Touch ID fingerprint security, NFC and metal casing, and Chinese analyst Sun Chang Xu claimed that the device might feature sensors that can detect pressure, temperature and humidity.
The 4.7-inch model may come with a 1800mAh battery, an upgrade from 1560mAh found in the iPhone 5S, and the 5.5-inch model may have a 2500mAh battery, reported Forbes (via Mobile.it168).
(Photo Credit: Screenshot from Amazon Japan Official Website)