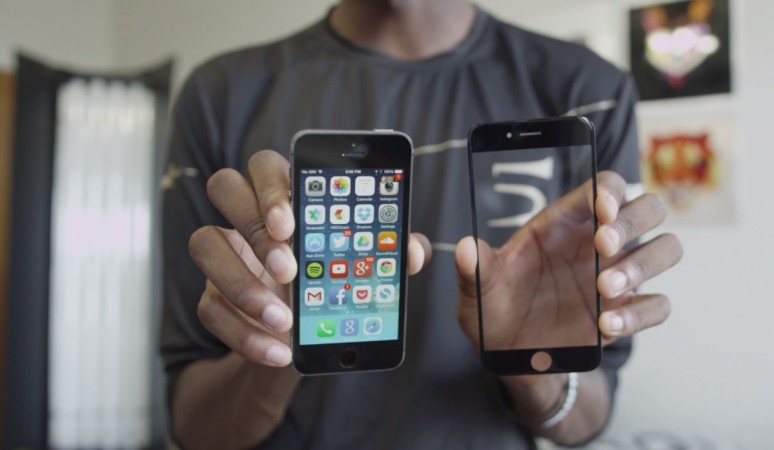 Apple Inc. may not officially reveal any information on its upcoming flagship smartphone dubbed as iPhone 6 but every bit of the device, including its expected features will keep surfacing as its release date is drawing nearer.
iPhone 6 is expected to be unveiled in September though the date is not confirmed. German website, ApfelPage has claimed, citing leaked internal documents of German wireless carrier Deutsche Telekom that it will be unveiled on 19 September.
Here are the major features that are expected to be seen in iPhone 6 when it is released:
Processor: iPhone 6 is expected to be powered by a 20-nanometer A8 chip (64-bit) processor, an upgrade from Apple A7 seen in iPhone 5s.
Operating System: The next-generation smartphone may run on iOS 8, Apple's latest operating system, which was released recently.
Display: Apple may launch two models of iPhone 6 – a 4.7-inch and a 5.5-inch, according to KDB Daewoo Securities. The smaller variant may come with a 1920x1080p (440ppi) resolution, while the larger model may feature a 2272×1280 (510ppi) resolution. It is also reported that the device will have a scratch-free sapphire crystal glass screen, which is unbreakable and second only to diamond in hardness.
Camera: It is reported that the new device will an 8MP camera with several upgrades, including flash and Optical Image Stabilization. It may be mentioned that iPhone 5s also has an 8MP camera.
Battery: A report by Forbes (via Mobile.it168) has suggested that the 4.7-inch model of iPhone 6 may come with a 1,800 mAh battery, an upgrade from 1,560 mAh found in the iPhone 5S, and 5.5-inch model may have a 2,500 mAh battery.
Value Added Features: iPhone 6 will feature sensors that can detect pressure, temperature and humidity, according to Chinese analyst Sun Chang Xu. Apple Insider reported, citing analyst Ming-Chi Kuo that the smartphone may feature low temperature polysilicon in-cell touch panels, Touch ID fingerprint security, NFC and metal casing.
Apple Inc. is reportedly working on releasing its new handset in September. Chipmaker Taiwan Semiconductor Manufacturing Co. has started production of Apple's processors that are making way to assembly plants, according to Apple Insider, which cited a report from Hong Kong.