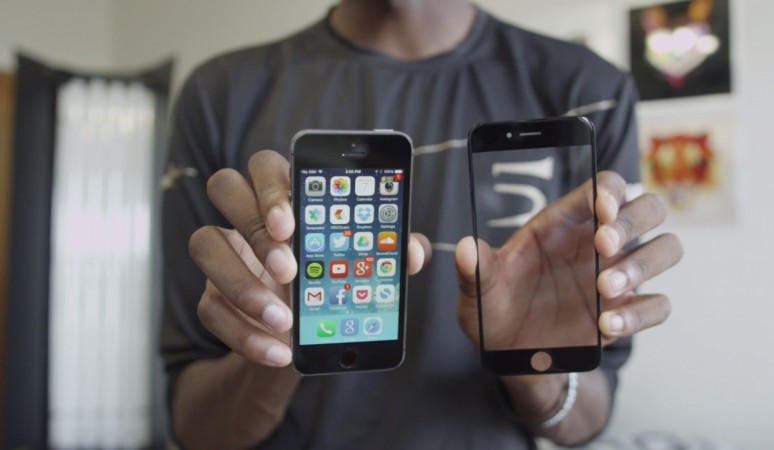 More features of Apple's upcoming flagship smartphone dubbed as iPhone 6 have surfaced with its release date drawing near. Now, one feature that may disappoint Apple fans has hit the net. A new report has suggested that the next-generation device have the looks of the first iPhone, iPad Mini and iPad Air.
Going by luxury iPhone vendor Feld & Volk's post on its Instagram page (first reported by MacRumors), the 4.7-inch model of iPhone 6 will have a look similar to the first iPhone, iPad mini, iPad Air, and newest iPod touch. The purported photos of the device on the social media page, claimed to be the final design, showed the front and rear portion of the smartphone.
The device has rounded corners and power button relocated for easier use. The photos also show the smartphone with redesigned volume buttons, speaker holes and Apple logo. It looks slimmer than its predecessors, which in sync with earlier reports.
According to a report by The Week, several commentators are of the opinion that the iPhone 6 might come with a super-slim frame with a depth of just 6mm while leaked specifications by Amazon claimed that it would be 7mm thin compared to 7.6mm frame seen in iPhone 5s. It was also speculated that Apple Inc. might turn to Liquidmetal to ensure that the super-slim handset is more durable and lighter than its predecessor.
Apple Inc. hasn't given any significant change to the looks of its iPhone. Fans are looking forward to a device with new design but the upcoming smartphone iPhone 6 seems to be not the one. This approach of the company not to change the looks of its iPhone series could leave its prospective buyers disappointed when it is unveiled next month.
The Cupertino giant may launch two models of iPhone 6 - 4.7-inch and 5.5-inch display - with sapphire crystal glass screen. The smaller model may have a 1920x1080p (440ppi) resolution while the larger variant may feature a 2272×1280 (510ppi) resolution, according to KDB Daewoo Securities. Both the models will be powered by a 20-nanometer A8 chip (64-bit) processor and run on the latest iOS 8.
The device is expected to unveiled and released next month. MacRumors reported citing a source having knowledge of an internal Apple Retail Store meeting that Apple Inc. might unveil its upcoming device on 16 September before releasing it on 14 October. German website, ApfelPage had earlier reported citing leaked internal documents of German wireless carrier Deutsche Telekom that the device might be unveiled on 19 September.