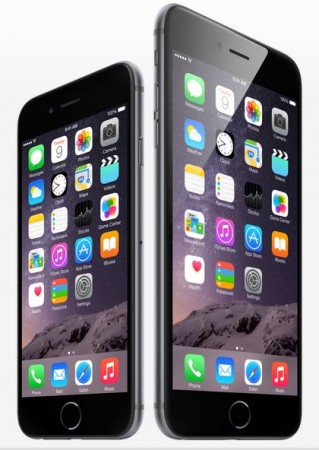 As expected, eager customers from around the world queued outside Apple stores to buy the much-awaited iPhone 6 and iPhone 6 Plus now that it's officially up for sales. However, some fans will be shocked to know that the screen of the devices was badly damaged on dropping, as it was rumoured before the release that it would be made of sapphire crystal glass, which is second onbly to diamond in hardness.
The first persons to own the new iPhone 6 handsets were tech blogger David Rahimi and his girlfriend Jasmine Juan, who came all the way from California to Sydney, Australia after pre-ordering for the handsets last week. Interestingly, Rahimi put both the 4.7-inch iPhone 6 and 5.5-inch iPhone 6 Plus to drop test as soon he got them.
In his video uploaded on YouTube, Rahimi dropped both the models of iPhone 6 on its side, back and front. Unfortunately, the screens of the devices were badly cracked though the handsets were still functioning well. The drop test may come as a surprise for many because it was speculated before the launch that the display of the device would be made of sapphire crystal glass, which is almost unbreakable.
The iPhone 6 Drop Test Video:
In another revelation, gadget insurance company Protect Your Bubble from the UK found in its survey conducted outside the Regent Street store that 41 percent of the prospective buyers were waiting to buy the iPhone 6 Plus, 20 percent for the iPhone 6, and 29 percent for both handsets, according to a report by Forbes.
The survey also revealed that 67 percent of iPhone 6 buyers thought it was good value, compared to 45 percent for the iPhone 6 Plus, while 54 percent said they didn't have plans to buy Apple smartwatch. It also found out that 47 percent are die-hard Apple fans, 24 percent had broken them, and 18 percent had either lost them or damaged their handsets with water.
Apple Inc. officially released its latest iPhone 6 and iPhone 6 Plus on Friday in selected countries - USA, Canada, United Kingdom, France, Germany, Australia, Hong Kong, Singapore and Japan - after unveiling on 9 September. It opened for pre-order for the device on 12 September but run out of stock in a few hours. Reports claimed that prospective buyers have to wait from three to four weeks before the company resumes its shipping.
The iPhone 6 and iPhone 6 Plus have almost the same specification except for the screen size and battery. The former sports a 4.7-inch display and battery with 14 hours (3G) talk time and 10 days (250 hours) standby time, while the latter boasts of a 5.5- inch screen with battery that has talk time up to 24 hours (3G) and standby time close to 16 days (384 hours).
Both the models of iPhone 6 are powered by 20-nanometer class based second generation 64-bit A8 chipset and run on iOS v8.0. It has 8MP iSight camera with 1.5µ pixels, f/2.2 aperture, True-Tone flash, hybrid IR filter, five-element lens, and sapphire crystal lens cover, and 1.2-megapixel FaceTime camera with f/2.2 aperture, auto-HDR, and 720p HD video recording.
The new device comes packed with 16GB/64GB/128GB storage and add-ons like fingerprint-resistant oleophobic coating on front- Dual-domain pixels for wider viewing angles, Bluetooth v4.0, NFC, Wi-Fi and GPS/GLONASS.