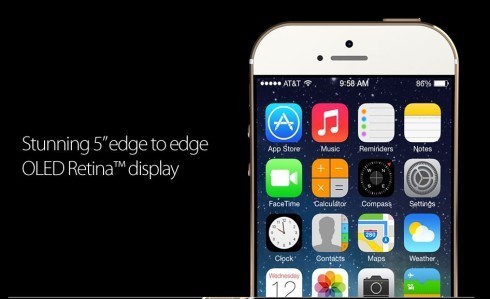 Apple Inc. has apparently decided to introduce bigger screen for its upcoming smartphone - iPhone 6 - and it is expected to look stunning.
It is reported that iPhone 6 will sport a 4.7/4.8 or 5.5-inch screen display, which is a huge turn around considering its stand that users should be able to hold cell phones comfortably in one hand.
According to CNet, Italian designer Federico Ciccarese shared them how he conceives the upcoming iPhone 6 with a bigger screen - both 4.7-inch and 5.5-inch display - would look like and it came out stunning. Ciccarese told the site that "he created his renderings based off reports of a 4.7-inch iPhone with a 750x1,338-pixel resolution and a 5.5-inch version with an 878x1,568 display."
Ran Avni of Israel and Enrico Penello of Italy have teamed up to create a video concept of the larger iPhones, in corporating some of the rumored features, including curved display glass, illuminated volume buttons, and higher display resolutions, added the report by CNet.
iPhone 6 will sport 4.7/4.8 or 5.5″ display with a 1920x1080p (440ppi), or a 2272×1280 (510ppi) IGZO Display and will be powered by A8 chip (64-bit) with iOS 7.2, according to a note to investors by South Korea's brokerage KDB Daewoo Securities (translated by Oled Display).
Why Apple Took Back its Word?
Apple Inc. said during the launch of iPhone 5S and 5C last year that it had intentionally gone for a smaller screen, as it thought users should be able to hold cell phones comfortably in one hand. However, the Cupertino giant will take back its word on screen size with iPhone 6, if one is to go by the reports.
Apple's iPhone 4S has a 3.5-inch screen, while iPhone 5S and 5C have 4-inch screens.
While Apple proclaimed the mantra of a smaller screen, its rival Samsung Electronics went on to make smartphones like Galaxy S4, which has 5-inch display, and 5.7-inch Galaxy Note 3. The South Korean giant made good business out of its big screen devices, and now the trend seems to have hit the Cupertino giant too.
Apple's decision to manufacture smartphones with bigger display makes good business sense, as bigger screens are popular in China, which has become an important market for the company.