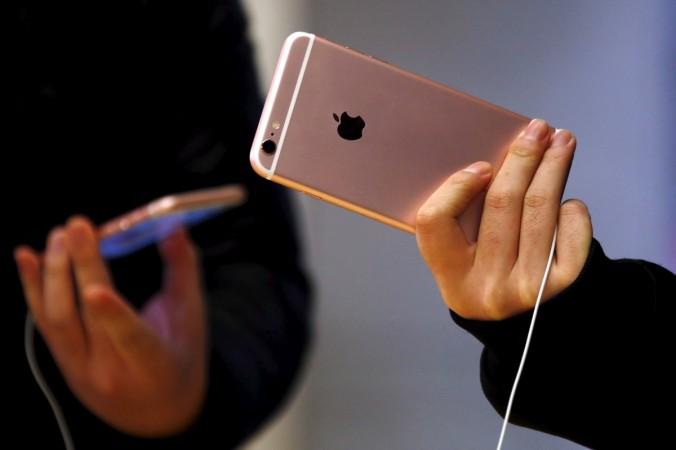 Apple has been barred from selling its 2014's iPhone 6 and iPhone 6 Plus smartphones in Beijing after the IP regulators found their designs were too similar to an existing Chinese phone. But the Cupertino tech giant has asserted that all of its iPhones are on sale in China's capital pending a formal court review.
Apple was notified of the ban on select iPhone models through a Chinese government portal on May 19, but the iPhone-maker said that it appealed for a stay order on the ban, granting it legal permission to continue sales in the city. The proposal to ban iPhone 6 and 6 Plus sales in Beijing was filed by a local manufacturer in China, Shenzhen Baili, claiming the iPhones resemble its patented 100C smartphone design.
"IPhone 6 and iPhone 6 Plus as well as iPhone 6s, iPhone 6s Plus and iPhone SE models are all available for sale today in China," Apple said in a statement to CNBC on Friday. "We appealed an administrative order from a regional patent tribunal in Beijing last month and as a result the order has been stayed pending review by the Beijing IP Court."
Although the ban was imposed on the iPhone 6 series for their designs, the regulators did not rule against the iPhone 6s and 6s Plus smartphones, which feature a design very similar to their predecessors. Following the news of the ban, the Wall Street Journal had reported that some stores in China had already stopped selling the phones months ago. A source told the publication that Apple will end the production of the banned iPhone 6 models soon.
In a separate CNBC report, legal experts told the publication that the recent patent dispute against Apple in China won't stick. Dan Harris, lawyer at Harris Moure and author of the China Law Blog, said that the patent dispute case would have minimum impact on Apple in China.
"Basing this on what we have seen, Apple will just crush this company," Harris told CNBC. "Maybe the Chinese company wanted money or publicity, maybe it's legitimate. But if everybody were super confident that the Chinese company had a strong design patent the order probably would not have been stayed."
China is the second-largest market for Apple. If there is a setback of any form in this country, Apple gets a huge blow. But this isn't the first time that the company has found itself embroiled in legal troubles in the country. In April, Apple suspended its iBooks and iTunes Movies over an order by Chinese regulators. In May, a court ruled against Apple allowing a Chinese company to use the iPhone trademark on bags, wallets and other leather goods.