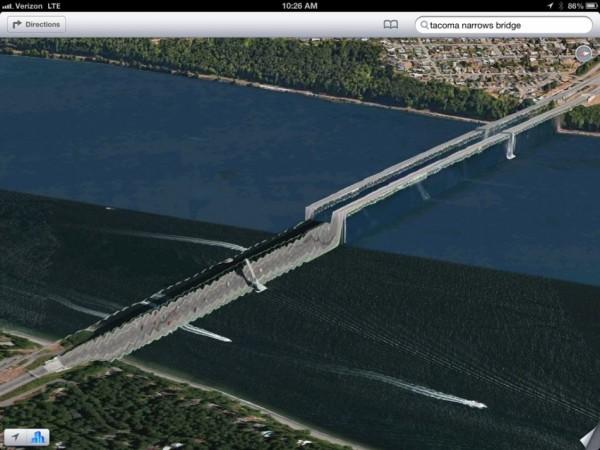 Apple's ambitious attempt to cut off its dependence on Google maps with its latest iOS 6 operating system on iPhone 5 has encountered an embarrassing problem with the apps reportedly displaying distorted images.
According to the reports, Apple's new maps app, which is integrated in the just launched iPhone 5, has irked the users with erred navigational routes, misplaced town and cities and melting bridges.
The Washington State Department of Transportation Department exposed the flaw of Apple's map, which shows Tacoma Narrows Bridges melting.
The WSDOT clarified the error on the melting bridge via Twitter. "Although #ios6 may say differently, we can assure you that the Tacoma Narrows Bridges have not melted," it wrote and tweeted an image of Tacoma Narrows Bridges, which is dubbed as "Galloping Gertie."
However, Apple is yet to make any remarks on the reported problems that were encountered in its mapping.
The new iOS 6 is packed with indigenously developed map feature, which was widely used by the Apple in marketing its new iPhone 5, promising to provide turn-by-turn navigation, which is supposed to be better than Google maps.
"An all new Maps app with Apple-designed cartography, with turn-by-turn navigation and an amazing new Flyover view," the Cupertino tech giant assured on its new maps app.
Google maps were a default mapping system in all of Apple devices and in iPhone 5 predecessors before it created its own maps based on the data provided by the navigation firms TomTom and others.
Once upgrading their devices to iOS 6 or buy new iPhone 5, the iPhone users have to use its latest maps app, given that Google maps app was not currently available in the Apple's App store.
However, the Google maps are still accessible from the phone's web browser.