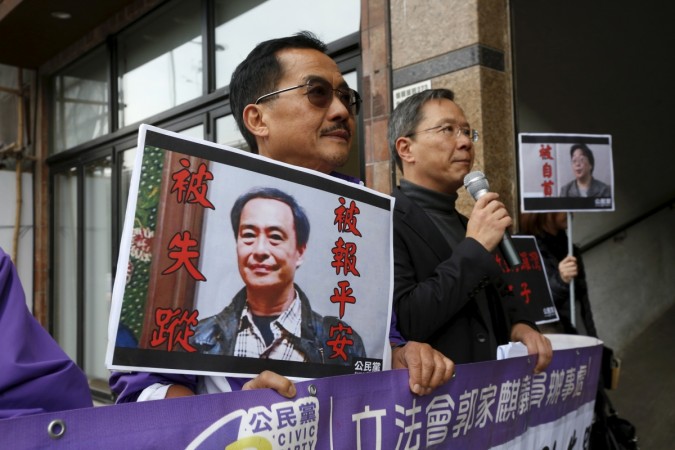 The British government believes Lee Po, one of the five missing Hong Kong booksellers, was "involuntarily removed" from the city to mainland China in a breach of the Sino-British Joint Declaration on Hong Kong.
The Sino-British Joint Declaration, signed in 1984 announcing that Hong Kong would be given to China in 1997, ensured "a high degree of autonomy, an independent judiciary, and freedoms including of the press, of academia and of expression". However, five booksellers connected to a store that sold texts critical of China recently went missing in what the British believe is a violation of the laws governing Hong Kong.
Po, who co-owns publishing house Mighty Current which runs Causeway Bay Book, along with his four business partners Gui Minhai, Lui Por, Cheung Ji-ping and Lam Wing-kei went missing in late 2015. The Hong Kong immigration office had no information on Po's travel to China even though he resurfaced there. He also holds a British passport, though China does not recognise dual citizenship, reported Bloomberg.
Po had apparently written letters to his family saying he was in China to take care of some matters, reports BBC.
"The full facts of the case remain unclear, but our current information indicates that Lee was involuntarily removed to the mainland without any due process under Hong Kong SAR (Special Administrative Region) Law. This constitutes a serious breach of the Sino-British Joint Declaration on Hong Kong and undermines the principle of 'One Country, Two Systems' which assures Hong Kong residents of the protection of the Hong Kong legal system," a report presented to the UK Parliament by Secretary of State for Foreign and Commonwealth Affairs Philip Hammond read.
A UK Foreign Office spokeswoman was quoted as saying by BBC that there were no provisions to deal with a breach of the 32-year-old declaration.
China, has so far maintained that this was an internal matter and no interference from other countries would be tolerated.