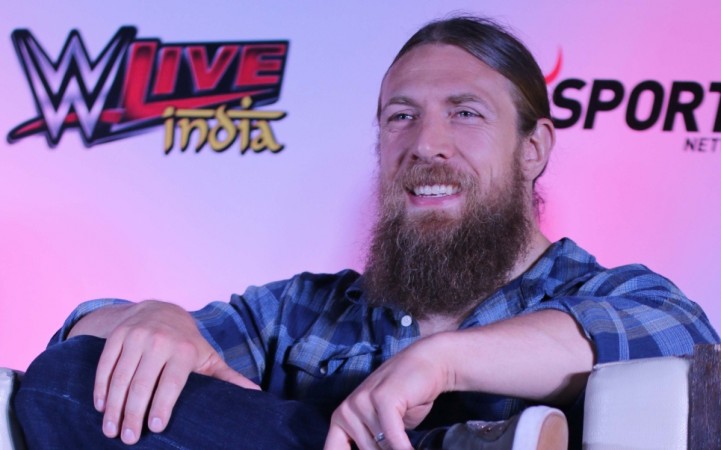 There's no pro wrestling fan who has not heard the name of Daniel Bryan or not seen his exploits in the ring. One of the greatest pro wrestlers America has ever produced, Bryan, 35, who had an emotional exit from the World Wrestling Entertainment (WWE) earlier this year owing to medical ailments, is back again to the fore.
This time as a colour commentator for the Cruiserweight Classic (CWC) tournament, a brainchild of WWE.
The knockout tournament, the round of 32 of which is scheduled to take place on July 13, features 32 pro wrestlers with a billed weight of less than 205 pounds, competing for the numero uno position. Featuring talented wrestlers from across many nationalities and various independent pro wrestling circuits, the CWC also features two pro wrestlers from India -- Gurv Sihra and Harv Sihra, collectively known as the 'Bollywood Boyz'.
International Business Times, India, got a chance to interact with the famed Daniel Bryan, a former WWE World Heavyweight Champion, to get his views on the Bollywood Boyz and how he feels pro wrestling in India can evolve. Excerpts:
IBTimes India: Give your comments on the Bollywood Boyz.
Daniel Bryan: Oh my God! I've known those guys for a long time, since they were young. We used to do shows in Vancouver DC and that's when I met them. I have been following them for long since they were kids, but they are not kids anymore. I think they are great. The way they blend fighting with entertainment is tremendous.
As for me, I feel the audience will really love seeing the Bollywood Boyz in action. They are just a sheer pleasure to watch.
IBTimes India: You've been to India in the past. What do you make out of the pro wrestling scene in the country, from the little knowledge you gathered?
Daniel Bryan: Oh, I think there is a great potential for wrestlers to evolve from India. I'm pleased to see that a lot of training centres concerned around the sport are coming up and the culture of wrestling in the country is also strong.
Overall, India is a huge market to promote wrestling and as for the WWE, if the company does find out a really good wrestler from the country, I feel proper grooming and further training will create a strong path for that athlete to grow. Great potential in the country.
IBTimes India: Finally, give your thoughts on how India can produce more pro wrestlers in the future?
Daniel Bryan: I think the key to getting more pro wrestlers from any country is to find a place to gather quality training. There have been several instances around the world when just passion has led an athlete to try out different options -- from training alone to visiting countries like Japan and European nations -- to further the wrestling skills. There goes the saying – 'Where there is a will, there is a way'. It's as simple as that.
Also, getting experienced guys in to train the youngsters remain the key. For example, former WWE wrestler The Great Khali, also from India, took forward his pro wrestling knowledge and imparted it among many youngsters in the country. He also started his own wrestling school -- the Continental Wrestling Entertainment (CWE) school, which he opened in Punjab in 2015.
Ricardo Rodriguez, best known as Alberto del Rio's ring announcer, is also a part of the training team of CWE.