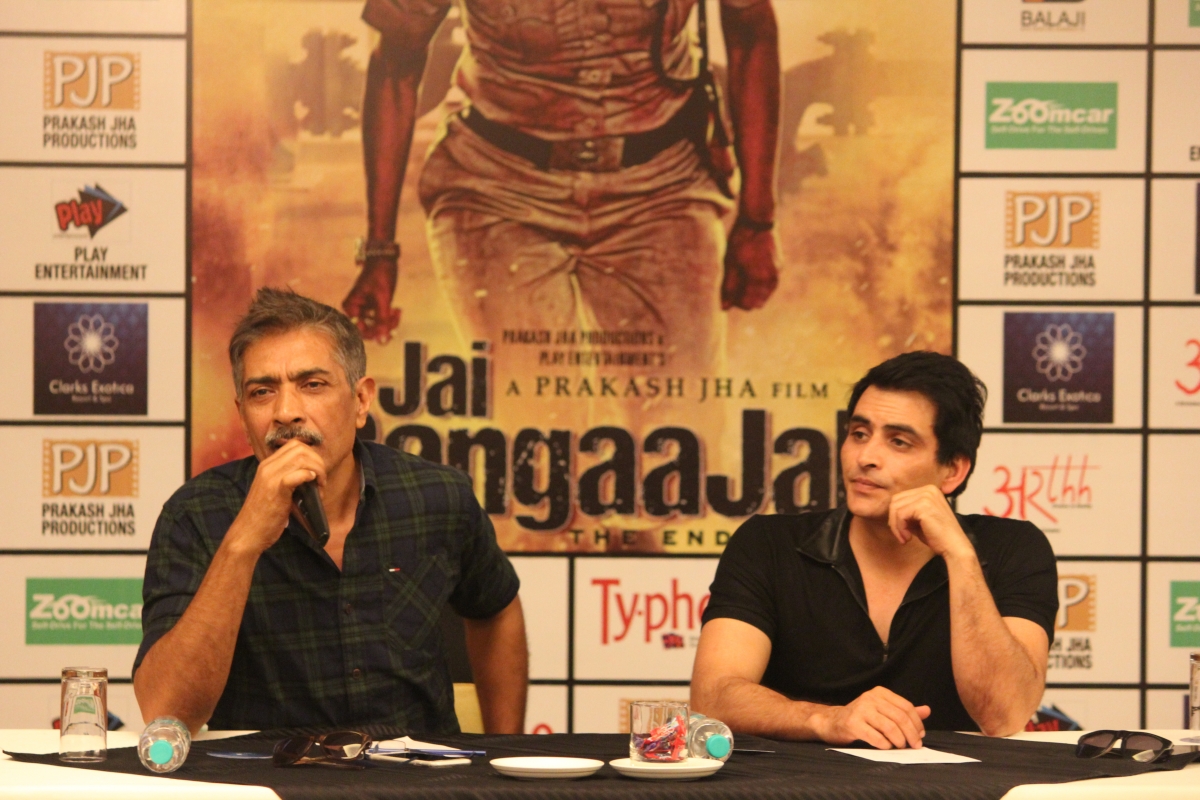 Filmmaker Prakash Jha has entertained viewers with his phenomenal films like "Apaharan," "Mrityudand," "Gangaajal," "Aarakshan," "Satyagraha" and "Raajneeti." His films were mostly based on social-political issues and now, he has directed another relevant film – "Jai Gangaajal."
The interesting bit here is, he has not only directed, but acted in it. The protagonist of the film is Priyanka Chopra, while Manav Kaul plays the villain.
Scheduled to be released on March 4, Jha is busy promoting his film. He had come to Bangalore on Tuesday, Feb. 16, along with Kaul to promote the flick.
At the press conference, Jha talked about the cast and making of "Jai Gangaajal." The flim, which is about a female IPS officer's struggle to set things right in the society, deals with gender discrimination and other such pressing social issues.
When asked why he makes politically-inclined films, he said that he wanted his films to be as close to reality as possible. "My hero will not jump in the street and cars will fly off. I am near to reality," Jha said at the conference.
Talking about his experience of working with Priyanka Chopra, he said that she used to call him the "junior-most actor" on the sets as it was his debut film in acting.
The prevalent pay disparity in the industry was one of the many issues he opened up on. Interestingly, Priyanka was paid the highest for the film.
In an exclusive interview with International Business Times, India, Jha spoke about the film, censor board and more.
Here are the excerpts from the interview –
International Business Times: How did you come up with the idea of making "Jai Gangaajal"?
Jha: The idea of making "Jai Gangaajal" came up in 2013. I found the functioning of police and how they are being used, quite interesting.
IBT: A few days ago, there was a report that you were the real "hero" of the film. What do you have to say about that?
Jha: No, that is not true. Priyanka is the protagonist. She is central to each and every character. My character is kind of adjusted to the whole issue. My character is like Inspector Bachcha Yadav, which was played by Mukesh Tiwari in "Gangaajal." And to know more you have to wait for the movie.
IBT: Priyanka said in an interview that she wouldn't be able to promote the film. So, do you think it will hamper the promotional strategy of "Jai Gangaajal"?
Jha: She is promoting the film, she is available on digital media to talk about "Jai Gangaajal." As you know the series of "Quantico" has been extended, so she has to be there. I am here to promote, don't you like me? (laughs)
IBT: Was it difficult to shoot with Priyanka as she was busy with her international project as well?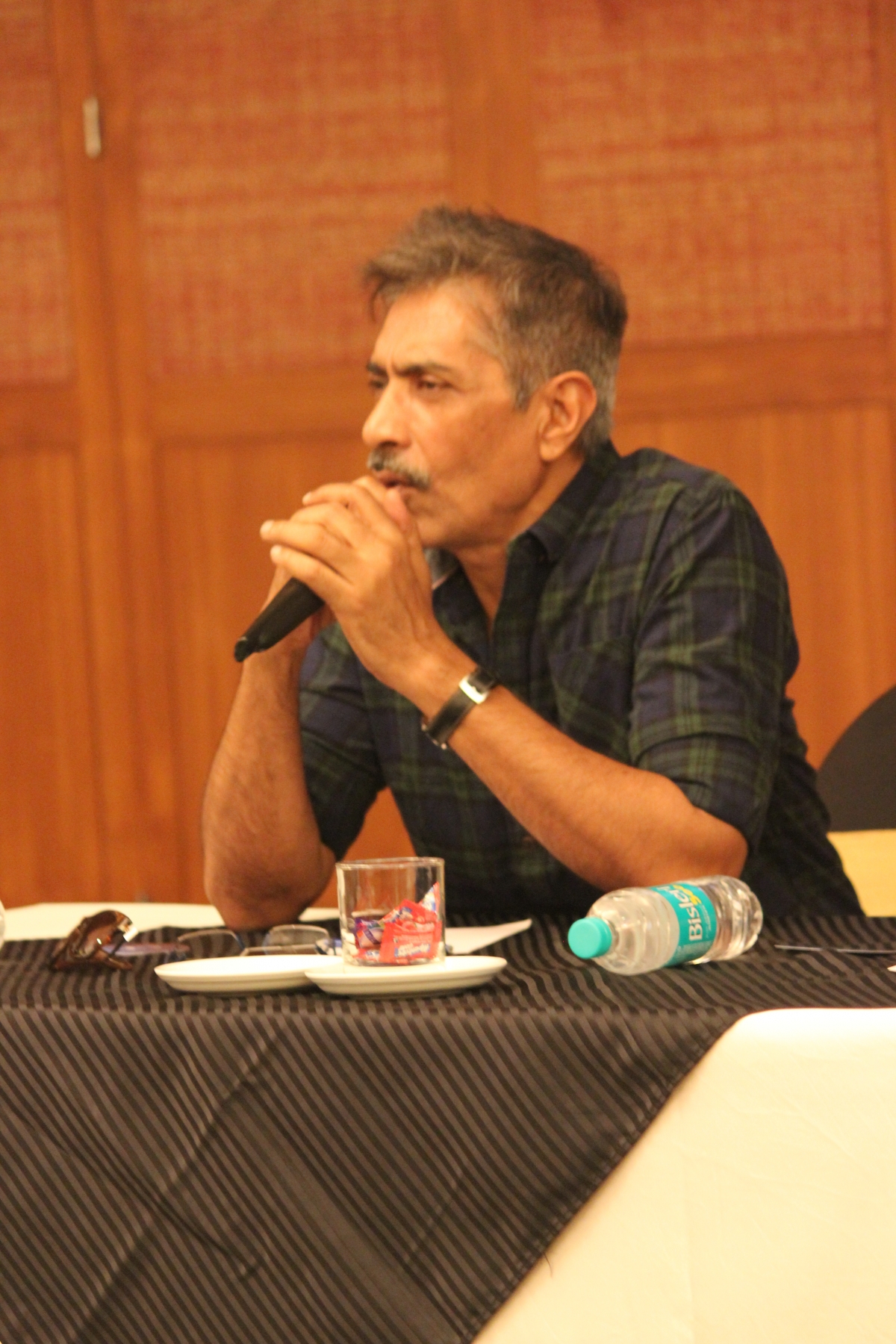 Jha: It was not difficult to shoot with Priyanka. She managed her time according to the film's schedule. She gave her 100 percent to the project.
IBT: Why do you only make films based on social political issues, don't you want to make any romantic-comedy film?
Jha: I would love to make romantic movies. I need to find a really inspiring love story. I want to make comedy.
IBT: Censor Board wanted 11 cuts in the film and was awarding it with an "A" certificate. You had to fight to get a "UA" for your film. Though the issue with your film has been solved, but Bollywood is still facing censorship under Pahlaj Nihalani's observation. So, do you think Shyam Benegal's revamp team will help the film industry?
Jha: I hope it (Shyam Benegal revamp team) does help the industry. Actually, I have a problem with censorship. You can see black and white, but what about the grey? How will you decide that this much grey can be seen by adults and this much by adolescent? I think there should be no censorship. We will be better off without censor board.
IBT: Do you have any say on the JNU issue?
Jha: People are not interested to know the entire issue. They are interested in Twitter and social media and interested in a new cry, which is not correct.
IBT: Any plans to contest elections in future?
Jha: The first two years – 2004 and 2009 – I just wanted to do something, so I did this. And in 2014 I was forced to do, but it's over now, no contesting elections.
IBT: Any upcoming projects?
Jha: Currently, I am thinking about making the second part of "Raajneeti." Whether it will be a sequel or not, nothing has been decided yet.
Related
Priyanka Chopra's 'Jai Gangaajal' gets UA certificate; Prakash Jha criticises Pahlaj Nihalani
Here is why Priyanka Chopra is not the real hero in 'Jai Gangaajal'
Jai Gangaajal: Prakash Jha slams reports of making voluntary cuts in Priyanka Chopra-starrer
Jai Gangaajal trailer: Priyanka Chopra's tough cop look to steal hearts in Prakash Jha directorial [VIDEO]