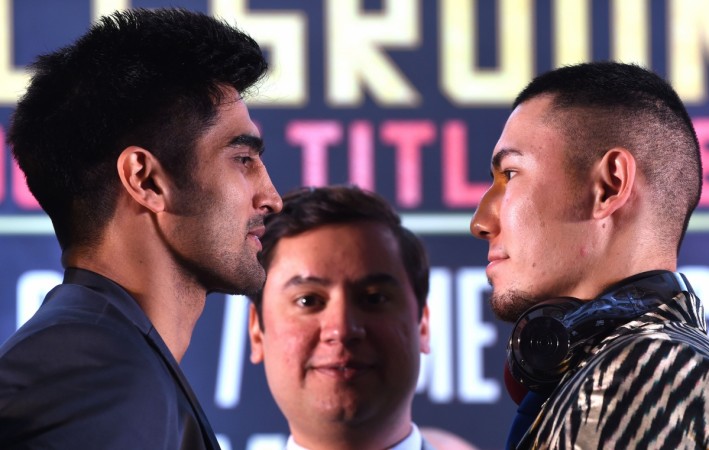 Vijender Singh, ever since he turned pro, has been waving the Indian flag high in the professional circuit. There is an air of confidence in his style of boxing after having won all his eight bouts so far.
The WBO Asia Pacific Super Middleweight champion is keen to maintain his unbeaten streak as he prepares to face WBO Oriental Super Middleweight champion Zulpikar Maimaitali from China at Mumbai's NSCI Dome on August 5.
What makes this contest special is the fact that both the titles will be on the line. The winner will take both the belts. So, Vijender and Zulpikar will be keen to throw the perfect punch and land the twin titles.
Vijender is training hard to get in perfect shape for the fight. The match will be a test of character as well.
The Indian boxer said his fight against Zulpikar will be one of his biggest fights.
International Business Times, India had a chance to interview the Indian boxer. Excerpts:
International Business Times, India (IBT): Your bout against Zulpikar Maimaitali is building up as a 'King of Asia' fight. Is this your biggest fight in the professional circuit so far?
Vijender Singh: Yes, this will be one of the biggest fights that I will be a part of. It has two Asian titles at stake. Zulpikar and I are putting our titles at stake, whoever wins will take both the titles. With two titles under your belt, you become the 'King of Asia'
IBT India: You are unbeaten in the professional boxing circuit. Each boxer brings a different challenge. How are you preparing for Zulpikar fight?
Vijender Singh: Zulpikar is a southpaw and I am an orthodox boxer. This changes a lot of things. Not only the training but also the mental preparedness plays an important part. The way to defend yourself from a southpaw is different. My trainer watches videos and then we come up with strategies to face Zulpikar inside the ring.
IBT India: Which boxer has been the most difficult opponent so far in the pro circuit?
Vijender Singh: Kerry Hope was a tough challenger. He has more experience than me with more bouts under his belt. That bout went on for 10 rounds, but I was able to beat him and keep the title belt.
IBT India: Seven of your eight bouts have been won by knock-outs. Will you change your strategy for this bout?
Vijender Singh: I don't have any strategy for a knockout win. All that matter to me is to get in the ring, give 100 percent and win the bout. How I win is not important. Yes, if I get a knockout win, then its obviously very nice, but my aim is to win, knockout or no knockout.
IBT India: Zulpikar has been talking big about the fight. Why do boxers trash talk before fighting against you?
Vijender Singh: I think they are scared of me, so they try to play mind games with me, hoping I would get scared (laughs). But honestly, I don't pay attention to all this, I concentrate on my training, because at the end of the day what happens in the ring is what everyone will see. They will forget all the talks then.
IBT India: A number of high-profiled celebrities come out and support you. Does that give you extra confidence inside the ring?
Vijender Singh: It's an amazing feeling to fight at your home ground. The love and support you get from people who show up in large numbers are amazing. I feel the celebrities are very generous with their good words. They always have very nice things to say, and it motivates me.