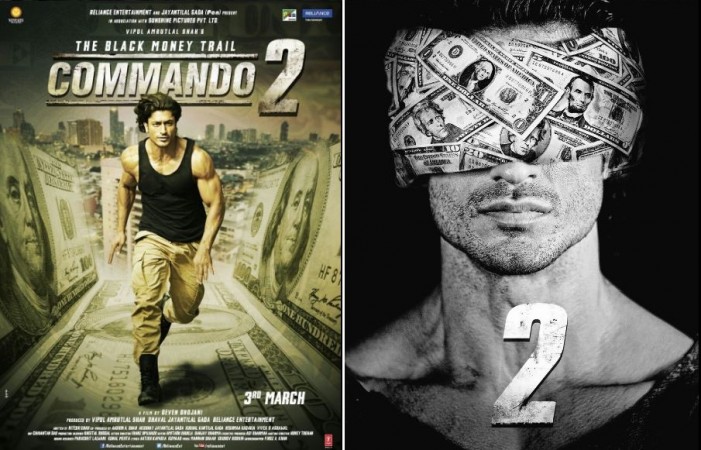 Vidyut Jammwal is set to reprise his role as Karanvir Singh Dogra in Commando 2: The Black Money Trail (Commando 2), which releases on Friday, March 3. It is the sequel to 2013 film Commando: A One Man Army.
The trailer of Commando 2 has received a positive response from viewers. The plot of the action-drama will revolve around protagonist Karanvir and his mission to eradicate black money.
Produced by Vipul Amrutlal Shah, Commando 2 also has Adah Sharma and Esha Gupta in key roles.
In an exclusive interview with International Business Times India, Vidyut spoke about his experience working with director Deven Bhojani, how he prepared for the role and more.
International Business Times: How was it working with director Deven Bhojani, who is known for comedy shows like Sarabhai Vs Sarabhai and Khichdi?
Vidyut: It was brilliant because we all know him as a great actor. If you can do great comedy, you can certainly do great serious role and drama. But as a director, he surprised me more than I thought he would because it's so amazing to have a guy on sets who knows his job and who has been in the industry for about 20-25 years, so it was very good.
IBT: This is Bhojani's directorial debut, so what made you come on board with him?
Vidyut: I believe in people and have seen his work as a director. He has made an action series Pukaar, which was very very short, and I have seen the series and think he had done a very good job.
IBT: You are reprising your role as Karanvir. What new can your fans expect from you in Commando 2?
Vidyut: For me there was a great responsibility of surpassing what I have already done in Commando because when I used to meet people they told me how they loved every scene I did. But what could be next? So for me there was a big responsibility and I worked very hard on it. Everything that I did in Commando 2 has not been done before by anybody. So I'm very proud of what I have done and it's showing in the trailer and people are appreciating it.
IBT: Tell us about your co-stars Esha Gupta and Adah Sharma
Vidyut: Esha, I know for a while because we used to model together and have done a few shows together and Adah, I met her on the sets while going through some narrations and we both were friendly. I have to tell you that I am blessed to be working with two girls who are very good actors and great girls too.
IBT: How different is Commando 2 from its first instalment?
Vidyut: It's completely different. It's like the James Bond series. Every time you watch it, you will be completely awestruck. The story is different, the cast is different, the crew is different and the action is on a very high level and I can with great pride say that nobody in the world has done what we have done. In fact, the production value is higher, that way we have conceived it is different.
IBT: Commando had some high octane stunts. Does the sequel have similar dare devil acts?
Vidyut: The level has been raised to a point that nobody can ever touch. So yes, it's completely different, the high-octane has become the highest octane and we are on a very very good ground.
IBT: Do you feel the pressure since audience will have higher expectations from the sequel?
Vidyut: There was great responsibility, there was no pressure. I have a great fan following in action and I have been established as the best action star of filmy generation, so there was a great responsibility of doing something new, better than anybody has seen it. I have to tell you that the responsibility has been fulfilled.
IBT: Tell us about your future projects
Vidyut: I will be working on another project with Vipul soon. After which I will start another project which is called Junglee with Jungle Pictures. I have got Yaara which will release this year and I have Badshah which I'm shooting for. Yaara has Shruti Haasan as lead and Tigmanshu Dhulia as director.