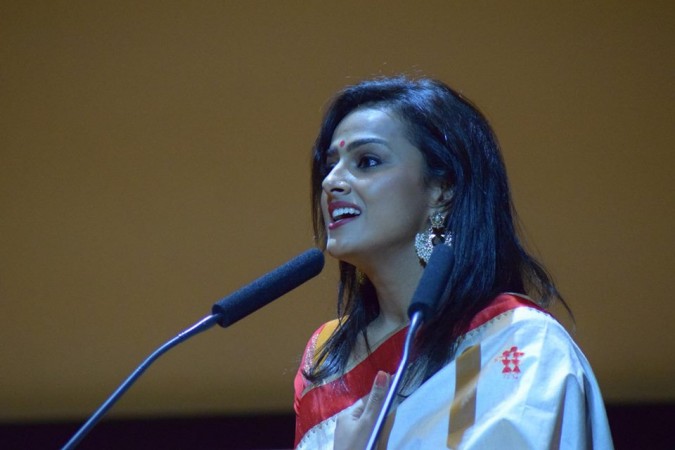 Shraddha Srinath, who shot to fame with the movie U Turn, is awaiting the release of her second film, Urvi. The female-centric Kannada film will hit the screens on Friday, March 17. Ahead of its release, she spoke about the film, sharing screen space with Shruti Hariharan and Shwetha Pandit and more to International Business Times. Here's the excerpts from the interview:
How excited are you about the release of Urvi?

This is my second release in Kannada. Obviously, I am thrilled and looking forward to the viewers' response. Urvi does not have a routine story and is a very relevant film.
You were flooded with offers following the success of U Turn. Are you choosy about your films?
I am a little selective about my movies, but I do not like to limit myself to one kind of roles. Frankly speaking, I only sign if I have faith in the project and I don't want to do movies half heartedly. However, I am really taking things as they come. I want to be part of all kinds of films.
What is Urvi about and can you tell us a little bit about your character?
I play the role of Survi, who had a tough childhood. The film deals with the story of three oppressed women. They all have different back-stories and childhoods. Destiny brings them together and they decide to rebel. Their fight with the institution forms the crux of the story.
How did you bag the project?
The movie I signed first did not see the light of the day. Kiran, the associate director of the movie, asked me to meet Pradeep Varma, who was in the process of finalising the cast for Urvi. I met Pradeep and I was on board before I know it.
Tell us about sharing screen space with Shruti Hariharan and Shwetha Pandit.

The first and foremost reason why I signed Urvi was because the movie had Shruti Hariharan, whom I consider my elder sister. She is the one person that I look up to and love the most in the industry. I know she always wishes me good. I had seen her in Lucia and knew she came from Pawan Kumar's camp. Hence, I wanted to work with her. When the film came my way, I grabbed the offer with both hands as I did not want to miss out on this opportunity.
Coming to Shwetha, she has worked hard for what she is today. She had worked as an assistant director. Generally, in other sets, there would be three vanity vans. But here, we were in one, which turned out to be the best decision taken by the producer. We were chit chatting whenever time permitted and had a real blast on the sets.
Do you think Sandalwood is ready to accept a female-centric project?

I think Kannada audience are open to such movies. When we look at the success of movies like U Turn, Lucia or Godhi Banna Sadharana Mykattu, it's clear that there is an audience for movies with good content. And the good thing is, this section of viewers is constantly growing.
However, we do not want to cater to just the multiplex audience as the film is so relevant to the society and women at large. Urvi should be watched by every single screen cine-goer as well. I hope the film reaches to every nook and corner of the nation. So far, we are having multiplex and a few single screens and I am sure that the film will definitely be received well by the viewers.
Would you like to share any one memorable incident from the sets of Urvi?

I always loved to drive jeeps and I got the opportunity to do it in Urvi. There was a song sequence where I had to drive an open jeep. All three heroines were in the jeep in a highway and I enjoyed being in the driver's seat.