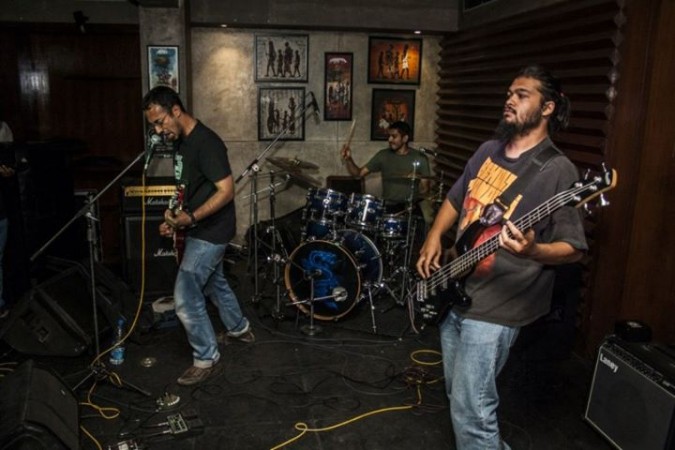 Bangalore-based sludge/doom metal band "Shepherd" has created quite a buzz in the past year with their energetic live shows and heavy distortion-driven sound. They won the award for the Best Album Art at the Rolling Stone Metal awards this year for their 2015 debut album "Stereolithic Riffalocalypse," a record which featured in 2015's best albums lists on many well-known publications such as Rolling Stone magazine.
Now, the band is gearing up to share the stage with the likes of German stoner/psychedelic rock band "Colour Haze" and British post/math rock band "65 Days Of Static" at Indie March 2016, a music festival organised by Bangalore-based company Counterculture taking place March 19-20.
Shepherd will be performing right before "Colour Haze" takes stage. "I think it will be pretty exciting to play before Colour Haze because, at the end of the day, the whole point of supporting a band like Colour Haze is to get their crowd to listen to your music. Also, the fact that we all grew up listening to the band makes it even more special," says Abhishek Michael, the bassist of "Shepherd." The band's set list will comprise their entire album.
Consisting of Namit Chauhan on guitars, Michael on bass and Deepak Raghu on Drums, "Shepherd" is a band known for their improvisations, laid-back riffs and heavy atmospherics. "Stereolithic Riffalocalypse" won them the required critical praise and back-to-back live gigs gathered them the recognition that they have now. "Honestly speaking, we didn't expect the recognition that we got. After coming out with the album, we got quite some attention from the international sludge/doom metal scene. But the album did better outside India than in the country. It's only now that we are getting a good response from the Indian crowd," reflects Michael.
Formed in 2011 when Chauhan and Raghu started jamming together, the band went through a lot of experimentation before coming up with their current sound. It was established only after Michael joined in 2012. "Shepherd" is currently enjoying their hard-earned success and gearing up for their next release. "We have written quite a few new songs. So, sometime during this year we will start working on our next album and, hopefully, the end of this year or early next year we should be out with it," says Michael.
Listen to "Stereolithic Riffalocalypse" below.