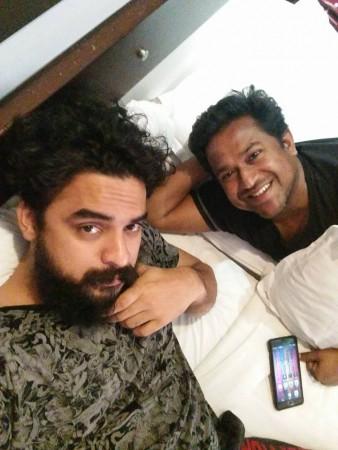 The classic Bhadran-directed "Spadikam" released in 1995 is tagged as one of the best movies in Malayalam to date and the character Thomas Chacko aka Aadu Thoma still remains in the minds of the Malayali audience.
The Mohanlal-starrer became one of the highest grossing films of the year. While the superstar shined as a thug in the film, you might be still remembering the face of young Aadu Thoma, a school boy who was very creative and productive in designing and making electronic gadgets unlike his father Chacko mash (Thilakan), who received president's gold medal in mathematics. Roopesh Peethambaran, who made his acting debut in "Spadikam," is set to make his comeback to acting with the upcoming Malayalam movie "Oru Mexican Apaaratha."
However, Roopesh was never away from the industry as he has directed the Dulquer Salmaan-starrer "Theevram" and Asif Ali's "You Too Brutus." In an exclusive interview with International Business Times, India, the young Aadu Thoma has opened up about his upcoming movie.
International Business Times: What is the plot of "Oru Mexican Apaaratha"?
Roopesh: "Oru Mexican Apaaratha" is being directed by Tom Emmatty, who assisted me for "You Too Brutus," and director Jude Anthany Joseph has written its script. The movie is set in a college campus and narrates about how the students established the political party Students Federation of India (SFI) in Maharajas College as KSU was the only political party in the college before. Tovino Thomas plays the hero and I am the main antagonist as the KSU leader.
IBT: Can we expect it to be a serious political movie?
Roopesh: The movie deals with student politics, but it is not a serious subject and will have many fun elements as well. It will surely bring nostalgia to the audience.
IBT: How did you land up in the role?
Roopesh: Like I said before, Tom was the assistant director of my directorial venture. He had narrated this movie's script while we were filming "You Too Brutus" and I encouraged him to make it into a movie, but I never thought he would offer me a role in it. Also, the character was exciting and after "Spadikam," I always wanted to do some important character. Interestingly, both Tom and Tovino were my assistant directors.
IBT: "Oru Mexican Apaaratha" - Why is this title?
Roopesh: I can't reveal that now, you will understand it after watching the film. You can expect a huge suspense.
IBT: When will the movie start rolling?
Roopesh: The shooting of "Oru Mexican Apaaratha" will begin by the end of September.
IBT: In between you directed movies, Roopesh, as a director and actor, how do you evaluate yourself?
Roopesh: That's a tough question. I am still toying with many ideas as a director because I love to take challenges. Do not expect a simple commercial movie from me. And as an actor I am still discovering myself as I never got a chance to prove well. I still feel as a new comer. So, let us see how things shape up. I hope to do justice as an actor.
-