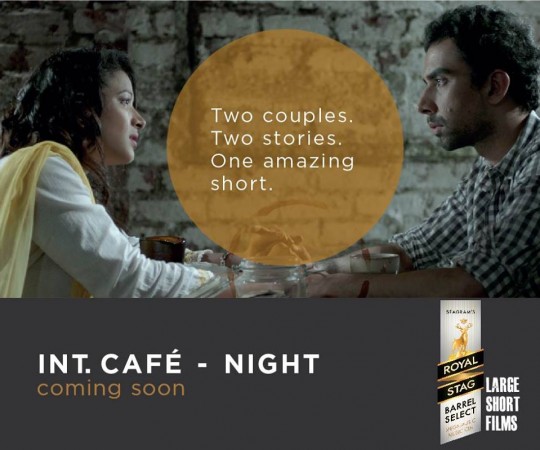 From number-crunching to assisting in films and finally facing the camera, "Pitchers" star Naveen Kasturia "made the switch" after quite a bit of convincing. In a chat with International Business Times India, the young actor traced his journey from the times he was parked behind a desk analyzing data for a corporate company to his tryst with Bollywood.
Also, he spoke at length about how he was in awe of Naseeruddin Shah the entire time he was shooting for Adhiraj Bose's short film "Int. Café – Night."
Here are the edited excerpts from the chat:
International Business Times: How did "Int. Café – Night" happen?
Naveen Kasturia: I wasn't in the country when I got a call from Shweta and I had no idea which Shweta she was because at times you get called for short films by students. Anyway, Shweta had sent a text and because I wasn't in the country, I responded much later. And when I could talk to her, she told me she was the one from "Iqbal." And, that was when I realised that it isn't a student project. Then, she also told me Naseeruddin Shah is a part of the film, which I was very excited about. In my head, I really wanted to do the film. Even then, I asked for the script. The film was scheduled to roll in a week and that was around the time I was flying back to India. As soon as I reached Mumbai, I met the director and that's how I came on board.
IBT: How was it working with Naseeruddin Shah?
NK: It was superb. He was one of the reasons why I wanted to do this short film. I hadn't done too many short films before, it was just this one called "Skin Deep." Naseeruddin Shah was the main factor for me for doing this film. My first meeting with him was at his house, for rehearsals. He is such a humble actor and very warm. I was in awe of him throughout and still am. In the short film, I didn't have too many scenes with him, just a sequence, in which I am kind of showing a little displeasure towards him. Because he was packed up much before I was, he walked up to me and hugged me and said 'beta, we will be in touch.'
IBT: Would you say Naseeruddin Shah was the reason why you came on board or was it the script?
NK: Of course, I really liked the script as well. There are times when you want to do a film because you really like the part and are passionate about acting. But here, I had more reasons – I knew I would be acting with Naseeruddin Shah. If the film was happening much earlier, I would have cut my holidays short. I was that excited about it.
IBT: From an IT professional to an actor, screen-writer, assistant director – how do manage to pack in so much?
NK: Actually I was not an IT professional. I was into finance and data analytics because I had studied engineering and was working with corporate companies, JP Morgan and such. In my head, I was planning to shift to films because we had done plays in school and college. But again it took me a lot of time to convince my parents, come to Mumbai and be part of films. I didn't move to the city to be an actor, I thought I would write my own films. For quite a while, I was assisting. Acting happened by chance because I was staying with actors. I also did a lot of commercials and used to go with them for auditions and that was how I earned money. One of the friends, who always told me I was more of an actor than anything else, was writing a film on two writers called "Sulemani Keeda" in which he cast me. So when this happened, I began taking acting seriously. I enjoyed working in the film and was also encouraged by my co-actors. That was when the switch happened.
IBT: What was that one moment that made you think that films interest you and it is something you would like to pursue?
NK: It is very difficult to point out one moment. I have always been a film buff, but when you are from a different city, belong to a middle class family, you usually end up following a conventional path. You don't think of moving to films. I was delaying the switch in my head, and every time I would meet people, I would whine about how I want to be in Mumbai and pursue acting. That was when a friend of mine narrated a story of an ancient tribe, that was the moment that made me think that I should take it (acting) up. So, there was this tribe and whenever they had to go on a war, they would have to cross a body of water. On reaching the other side, they would burn their boats. So then, either they would fight and win or die right there. They didn't have the option to go back. My friend told me that if I had to be a part of films, I will have to quit my job. That was when I thought that it's a now or never situation and decided on moving to Bombay.
IBT: You are not from a film background and an outsider to Bollywood. Has it been difficult for you to fit into the industry?
NK: Absolutely. I still do not know what Bollywood is. I am trying to act more. I really want to do more feature films. I have just done one film and a few short films. So far, I have been doing work online. I have done a popular web show called "Pitchers." I haven't really done films.
IBT: What kind of cinema excites you and why? Mainstream or off-beat?
NK: Actually, it's subjective. Something that is offbeat for you, can be mainstream for me. So, it completely depends on the script and the story. If those things excite me, then I'm in. I would say that "Sulemani Keeda" was totally my kind of film, but a lot of people may find it to be a niche film. At the same time, I enjoyed "Bajrangi Bhaijaan" a lot. In a conventional sense, it's a very commercial film. So it's either a bad script or a good script. I want to do all kinds of genres.
IBT: Any future projects?
NK: I am doing another web show, which will begin in September. "Pitchers 2" begins in January 2017. There's this another independent film I am in talks with. But then again, until and unless you go on floors you don't really know if it's happening.