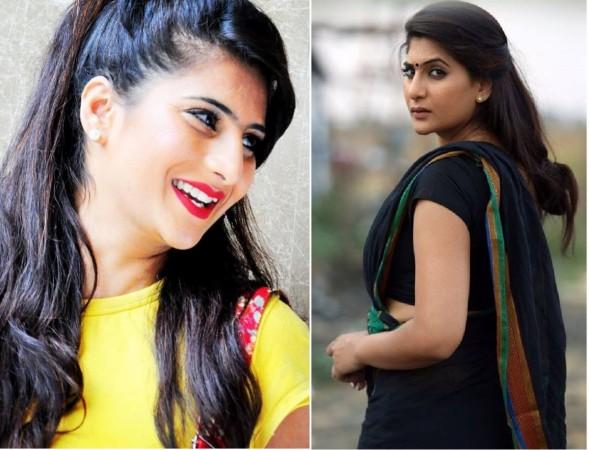 Megastar Mammootty's latest Malayalam movie has been garnering a fabulous response from the audience since its release on July 7. The movie, helmed by Nithin Renji Panicker, has marked the debut of actresses Varalaxmi Sarathkumar and Neha Saxena in Malayalam.
In an exclusive conversation with International Business Times India, Neha, who played the role of the sex-worker Susan opposite the megastar, has opened up on her experience in working with the team of "Kasaba" and about the kind of response she got from the Kerala audience.
Here is an excerpt from the interview with Neha Saxena:
IBTimes India: How did you get the chance to play Susan in "Kasaba"?
Neha: I had a magazine cover page photo-shoot with Mammookka last July when I first met the handsome man. Out of 75 models, I was shortlisted among the last 20 and was told to stand next to him. I was excited to see myself standing next to him in a yellow gown on the cover page with the title 'Mammootty with 20 beauties'. That was one of the biggest achievements of my life.
Later, I got a call from an unknown number saying I am shortlisted for a Mammootty movie, but I disconnected it thinking it to be a prank call. I was like is this true? From "the Mammootty" film when nobody in Mollywood knows me. But I again got the call from a person who is Mammootty sir's personal manager. He asked if I can come to Kolar wearing a sari as that's the attire of character Susan in the movie. But since I was flying to Kochi for Kerala Fashion Week that day, they gave me permission to join the sets after I am back.
IBT: How did your first meeting with Mammootty in "Kasaba" set go?
Neha: When I met Mammookka, it was like a fan girl moment for me. I was very excited and thrilled to speak face to face with him and even took photographs with him. It was he who briefed me about the character Susan and also said I am perfect for the role.
IBT: Susan is a sex worker, that's the kind of role many actresses are not ready to accept, that too in a debut movie. What made you to pick up such a challenging role?
Neha: During the briefing, Mammookka had explained that despite being a sex worker, Susan is one of the positive characters in the film. Also, an artiste should be willing to take up any challenging roles they get. I am a person who goes according to the script. I don't remove my clothes to go glamorous. In fact, I like to do de-glam roles. An actor has to be open minded to become complete.
IBT: So, do you have any dream roles?
Neha: I like to take up any challenging roles, I want to get different roles. People should remember Neha Saxena through the characters, like the Kerala audience now recognises me as Susan of "Kasaba." I don't have to go glam to be remembered by them. The characters I get must help me make a mark in the industry and I hope I will.
IBT: How was the response you got from the audience after the release of "Kasaba"?
Neha: That was tremendous. Many said I look like a Malayali girl and I was happy to know that they have already accepted me as a Mallu girl next door. The messages and calls I get from them make me so happy that they want to see me more in Malayalam films. Recently, I went to Kerala to attend a TV programme and I was surprised to see some people waiting outside the studio to see me. They had come from different parts of the state after seeing my Facebook post about my Kochi trip. That made me cry, tears were rolling down my eyes seeing the kind of acceptance I got from the Kerala audience, just after being part of a single movie.
IBT: What was the reaction of the audience after you watched the film in theatre?
Neha: I watched "Kasaba" in Garuda Mall, Bangalore and I was very happy once people started recognising me as Susan. They asked 'Susan alle?' (are you Susan?) and said they were happy to see the positive side of Susan, even though she is a sex worker. They took photos with me and that's when I felt the love of Kerala audience for the first time.
IBT: You have worked in all the South Indian languages, what makes Mollywood different from others?
Neha: Yeah, with "Kasaba," I have now officially become a South Indian actress by acting in as many as 16 Tamil, Telugu, Kannada and Malayalam films. Compared to other industries, Mollywood is very well organised and scheduled. If the shoot has to wrap up at 6, the alarm will be heard at 5:30 p.m. and the team will wind up the shoot on time. People will not waste time by doing nothing. Also, it has a lot of sensible movies with strong storyline and most importantly, glamour is not important in Malayalam films, as actresses are often seen without much make-up. For my character Susan, I just put bindi and kajal, and I think that was the best look I could get.
IBT: Being a fresher, how were you treated on the sets of "Kasaba"?
Neha: Director Nithin and cinematographer Sameer Haq have done a great job and supported me very well. From the light boy, still photographer, production controller to dance master, each one of the crew members was very supportive. I am a spiritual person and was fasting for nine days during the shooting. I was even down with high fever and skin allergy due to the climate change, but each one of them motivated me to do my part well.
IBT: The item song in the film was only released recently, how did the audience respond to it?
Neha: Looks like people loved the song. Many were sending me messages with screenshots of the song. Special thanks to the art director who took care of the minute details, making the house look exactly like a brothel. The song set was fantastic that added beauty to the song.
IBT: What do you have to say about the megastar?
Neha: I have heard many people saying Mammookka is an angry person, but having worked him, let me say, he is such a great and sweet personality who gives respect to women. He is very professional too. During the shooting, he himself once served food to all the cast and crew members of "Kasaba." Who else in that position does that? He is such a down-to-earth person. After the shooting, he wished me good luck and said he liked working with me. I became so emotional that I couldn't even respond well to his appreciating words. I really wish to work with him again.
IBT: Do you have any godfathers in the industry?
Neha: No. I was raised by my mother. I lost my father when she was pregnant and was in coma due to the shock. I was born as a premature baby. I am a graduate in aviation and hospitality management. I started my career as a model and since I am a workaholic person, who doesn't want to leave the corporate world, I also work at Mahindra Holidays.
IBT: Have you faced any issues in the modelling industry?
Neha: Being brought up by a single parent without any godfather in the industry, I had to face some issues while I was modelling. After committing for a modelling work, some have even asked me to come in a glamorous dress for a chat. The entertainment industry is good, but many make it bad. My self-respect is in my hands and being a spiritual person, I strongly believe that I will be valued if I go in the right path. Starring opposite Mammookka happened in my life due to that and I consider it as my biggest achievement so far.
IBT: Seems like you have a namesake issue?
Neha: That's one of the biggest troubles I am facing as there is a Hindi serial actress with the same name. When you search Neha Saxena on Google, you will see my pictures as I have acted in many movies, but the Wikipedia page gives details about the other Neha. So, let me make it clear to the audience, I am Neha who has done South Indian movies and I am not married. Due to this problem, only recently I got a verified Facebook page and I am still struggling to get verified on my Twitter account.
IBT: What about your new projects?
Neha: A few discussions are happening, but I cannot make any official statement as of now, as the makers have to do that part. I am very picky about the roles, as I want to make a mark in Malayalam movies through some notable roles. I want to be known for the character I choose and for my real personality.