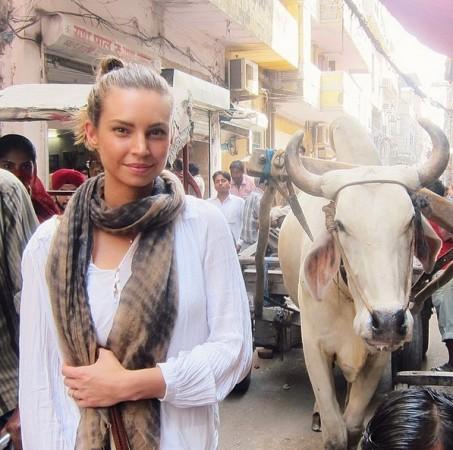 Anyone who is a hardcore fan of television cooking show Masterchef would know that Sarah Todd loves Indian cuisine, and that she regularly whips up Indian food for her fiancé and long-time partner Devinder Garcha and their three-year-old son, Phoenix.
But it was only recently that Todd got an opportunity to visit India, and learn about the wide variety of regional dishes. During her time in the capital, Todd got an opportunity to taste some authentic Indian delicacies, and the highlight was the keema and lamb biryani at Karim's. And in Goa, it was the traditional Goan fish curry.
But if there's one dish that she would try to replicate back home, it's the dosa and coconut chutney.
"I love breakfast food. The coconut chutney, that's my favourite. I asked the chef how to make it and I am definitely going to make it once I go back home," Todd told International Business Times India Edition, when we caught up with her to chat about her love affair with Indian food.
IBT: You were a model before you decided to make cooking a career. What prompted this switch?
It was definitely meeting my partner and his family. Growing up we just had a very bland diet, we had very simple food. Although my mom did make a lot of desserts for special occasion, most of the time it was simple food. But when I met him I saw how cooking could be fun and how it brought everyone together, and it changed everything for me.
IBT: What made you enter Masterchef and how has it changed your style of cooking?
I think it gave me confidence to be experimental and trust myself. When I went in there I was so nervous to see what the judges would say and what they would think. And when I got in there they started loving my food. I just started letting me do what I wanna do and just cook the food I like.
But it was a massive gamble. I knew I wanted to be in the food industry but at the same time I also knew how hard it is. But going into Masterchef gave me a chance to break into the industry. I don't have to start from the bottom. It was a gamble and a risk for a short amount of time. It ended up being worth it.
IBT: Did the elimination ever change your decision to make a career out of cooking?
If you cook in that environment and then walk out and still enjoy cooking, then that's what you should be doing. It's so intense and it could easily turn someone away from cooking. It just made me realise that cooking is definitely something I wanna be doing.
IBT: This is your maiden trip to India. How has it been so far?
It's been amazing, actually. I started off in Delhi, then went to Goa and now in Mumbai. The biggest thing was just how welcomed I was made to feel. Coming into such a foreign place, I know lot about the culture, but never experienced it first hand. Getting to experience all that has been amazing.
Initially, I was kind of in two minds (about coming to India). I fell in love with the country from afar. My partner's family is always cooking me such amazing Indian dishes, and I've watched Bollywood films. I've had pictures of what India would be like and it's finally nice to be here.