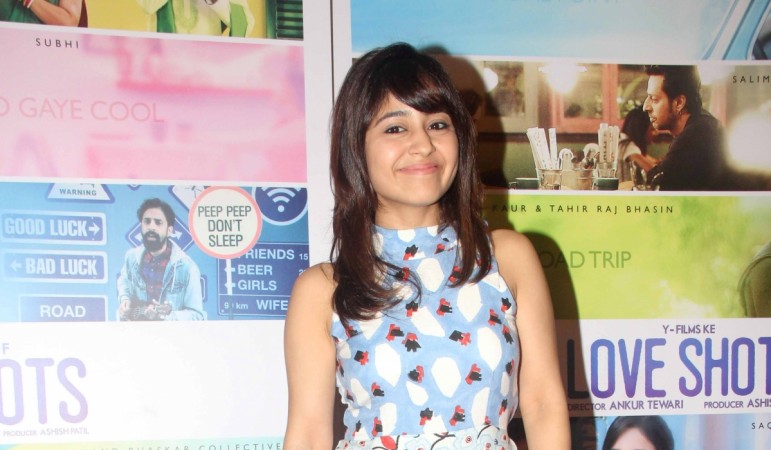 Shweta Tripathi's portrayal of Shalu Gupta in Neerja Ghaywan's "Masaan" was mesmerising. It put her on the map and won her awards across continents. She is now gearing up for "Koi Dekh Lega," (a part of Y-Films-funded online series "Love Shots") alongside Saqib Saleem.
In an exclusive interview with International Business Times, India, Shweta also opened up about her films — "Haramkhor" and "Masaan" — being recognised and applauded internationally, her love for acting and upcoming projects.
Here are excerpts from the interview –
International Business Times: Your upcoming short-film series "Love Shots" looks exciting. What kind of role do you play in it and how is it different from what you have done in the past? What prompted you to say "yes" to the project?
Shweta: It's a spoiler of sorts so cannot reveal the kind of role I play. But, it's a different type of character and was very challenging for me. I often get this: You have done independent films so far, so how does it feel to be part of a commercial project? The thing is, as an actor I don't ever choose a script based on whether it's independent or commercial, I pick those which excite me.
Working with Y-Films was great because it is a different style, and is definitely grand. I have been very fond of Ankur Tiwari, who is the director of "Love Shots," and then Aashish Patil who, I know, has a very good taste and makes great choices. And also, when you get an opportunity to work with YRF, you are obviously tempted to do it. Aashish was very nice and kind, he told me there would be no pressure and it was okay if I didn't want to work on it. If you turn down projects, people get bitter (not all, though). That assurance was given that there won't be any issue of this sort because for me people I work with are important.
IBT: Talk a little about your "Koi Dekh Lega" co-star Saqib Saleem. How was it working with him? Since he is also from Delhi, did that connection help?
Shweta: We knew each other from before and I am very fond of him. He's a very nice guy and we have a lot of common friends. So I was really excited to work with him. Again, we come from very different styles of acting because I am used to the whole less-is-more deal and he has done commercial films. So that's always exciting because then you need to connect with your co-actor, you need to see what is he giving you and how is he reacting and everything has to blend together. You cannot just do your own bit and get out. I really enjoyed working with him because he is a big prankster, so there was never a dull moment. And when Saqib is around, he makes sure that you are well fed. I felt at home and never like an outsider.
IBT: Talk a little about "Haramkhor" and how was it working with Nawazuddin Siddiqui? What would you say you learnt from him?
Shweta: "Haramkhor" was my first film, it was shot before "Masaan," and it will hopefully release in a few months. It was part of Indian Film Festival Los Angeles (IIFLA) 2015, where I won the Best Actress award. The film has been to at least 10 film festivals across the world and picked up trophies at 17th Jio MAMI Mumbai Film Festival too, last year. "Haramkhor" has been appreciated internationally, but we have been anxious about how people would react to it back home. But I have been talking to my producer and have asked him if he needs me to talk to people about it or promote it. It is a special film and I want people to watch it.
Working with Nawaz was one of the best experiences of my life because there's so much to learn from him as an actor and as a human being that you just grow and grow. I would love to work with him again sometime. It is challenging to be sharing screen space with him because you know he's going to put his best foot forward and then, if you don't do your best he's going to eat, chew and spit you out; which is why your A-game has to be on at all times.
IBT: How important are awards to you? Trophies or films screened at international film festivals — which would you say matters the most to you?
Shweta: Awards definitely make you feel good, but when your films are screened at international film festivals, imagine the audience. It is not limited to your own country anymore, people across the globe are watching it. Martin Scorsese has seen "Masaan," and for me that's a bigger award than anything else. As an artiste, it was a very fulfilling and overwhelming experience, it makes a huge difference.I feel great that both "Masaan" and "Haramkhor" have been watched by people across continents and I do not want to limit my audience.
IBT: What was that one moment that made you think you wanted to be in front of the camera?
Shweta: I have been wanting do what I do now since I was a child. I wanted to be on TV and stage. I remember taking fancy to the "googly woogly woosh" campaign Pond's had started. There was no one defining moment as such. Growing up, I have acted plays in school and essayed a range of characters.
IBT: Any mentor in the industry or someone you look up to?
Shweta: I take inspiration from people like Anurag Kashyap, who is making his own kind of cinema. Also, actresses like Radhika Apte, Richa Chaddha and Kalki Koechlin, who enjoy acting and have been experimenting, move me. Nawazuddin, who took time to arrive on the scene, is absolutely inspirational. He is such a talented man and has gone through so much.
IBT: Any A-list actor/director you would like to work with?
Shweta: There's a long list: Anurag Kashyap, Vishal Bhardwaj and Imtiaz Ali are directors I would love to work with. Also, I want to play Amitabh Bachchan's daughter and share frame with Ranveer Singh and Ranbir Kapoor.
IBT: Do roles change or impact you in anyway?
Shweta: This is an interesting question. I have recently done a short film, "Connect One," with Mukta Arts (It will be out in April). It's a story of two sisters (and I play the younger one) and how the younger one's life is influenced by the older one. The character is influenced by how I feel in real life. Also, if I play a depressing role doesn't mean I'd be left depressed for life. It just widens your horizon. You absorb so much that it changes you a tad.
IBT: You have dabbled in quite a few activities — run a theatre, once a photo-editor for Femina, have worked in commercials — how do manage all that while doing some really brilliant films?
Shweta: I can't sit at home and do nothing, it eats me. I have to do something or the other. And when I am not acting, I am producing plays where I can cast talented artistes. I want to make my life rich with experiences so that the characters I play on-screen become layered and textured.
IBT: Would you ever go for an out-and-out commercial film?
Shweta: I don't believe in item numbers, I refuse to be the eye candy. Such roles bother me because they are shallow and one-dimensional. I act because it satisfies me. No matter how big the banner is or my co-stars are, if I am not happy to be working on the project I am not going to do it.
IBT: What kind of roles do you like?
Shweta: I don't want to limit myself to a genre. I want to keep doing different roles. I would love to play the central characters of "Badlapur" or "Rockstar." I want to do a "Dil Dhadakne Do" to a "Lootera," I want my every character to be different from the other.
IBT: What are you future projects?
Shweta: "Good Morning Sunshine," a Sanjoy Nag directorial. The cast is interesting because it has Revathy, Rituparna Sengupta, Tejaswini Kolhapure and a cameo by Shabana Azmi. I will be working in Shlok Sharma's next.
"Koi Dekh Lega" releases online March 15.