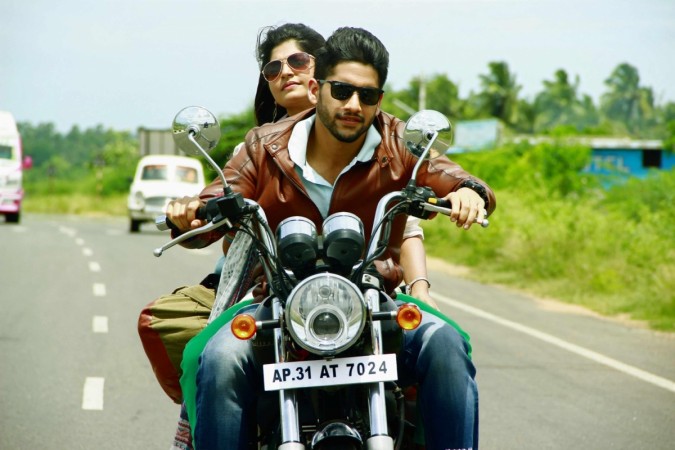 He's the son of Tollywood hero Nagarjuna and has acting in his genes. Naga Chaitanya made his debut in 2009 and there has been no looking back for him since. Today, he is one of the top young heroes in the Telugu film industry. Having worked with renowned director Gautham Menon in 2010 for Ye Maaya Chesave, the duo is back together with Sahasam Swasaga Saagipo this Friday. In an exclusive chat with International Business Times India, he talks about the film, Gautham Menon and more.
International Business Times: How was it working with director Gautham Menon again six years after Ye Maaya Chesave?
I think I'm a better actor and put him in a lot less trouble. (Smiles) I remember when I did Ye Maaya Chesave (2010) he struggled a lot as a director to get my performance the way that he wants. He taught me a lot during the course of that film and that has helped me over the years. Going back and working with him again has been a great experience. Every time I work with Gautham, it's like going to acting school. He lets the actor be and yet brings out something new in me every time.
IBT: Sahasam Swasaga Saagipo is a love story like Ye Maaya Chesave. How different is this film?
True but Sahasam Swasaga Saagipo I would say is an extension of Ye Maaya Chesave as a love story. Ye Maaya Chesave was about a love story about a boy and this is a love story about a man who is in late 20s or early 30s. But the second half of the film is completely in the action zone. There's a drastic change from the first half. The action is very edgy and raw. It's something new that I have tried for the first time and so has Gautham.
Your co-star Manjima Mohan features in both the Tamil and Telugu version of the film and she's relatively new.
I won't say she's a newcomer because in terms of her performance she didn't behave like a newcomer. In fact, she comes as across as very experienced and she said her dialogues like a Telugu-speaking girl. The kind of inputs that Gautham gives his actors, even newcomers won't have difficulties. The way he explains and preps you for a scene, even a newcomer doesn't feel he or she is doing something difficult or new.
IBT: Since you've done about 10 films now, was Sahasam Swasaga Saagipo a cakewalk for you?
I won't say it was a cakewalk for me. Whatever said and done, Gautham Menon is a senior technician and for him performance is very important. He focuses a lot on the script. I always want to prove myself when I go on to his set and want to be on top of my game. I'm always nervous! (Laughs)
IBT: After having done a second film with him, were there more things you learnt?
Absolutely! When I did Ye Maaye Chesave personally it opened up a new genre for me with regard to the audience. They accepted me in love stories. I was more convincing in love stories after that script. I would say this film is probably version 2 of my acting career personally. I feel I've come out of the film learning a lot more and matured a little bit more. It's definitely the next step after this film for me personally. Not in terms of the range of films but in front of the camera for sure.
IBT: Gautham is known to change the image of his actors.
For me, this movie will do that in the action genre. The action films I've done have not been as convincing but with this film, I think I'll break the ice (with the audience) in the action genre as well.
IBT: Are you nervous or excited now that the film is finally releasing?
After I finish dubbing and seen the film, I tend to switch off. When things are out of my control, I just stay quiet and wait for Friday. More than excited, I am nervous. It's a different film – not the run-of-the-mill Telugu films that release every Friday. It's a different attempt like Ye Maaye Chesave. When I did that film everyone said it was a risk and the approach in this film too involves a risk. But when people accept the risk, then it takes the film to a whole new level and the appreciation is very different. I'm hoping that this movie will have that sort of effect as well.
IBT: Have your dad (Nagarjuna) and family seen the film?
No one's watched the film yet. Probably in the next few days, we'll watch it together.