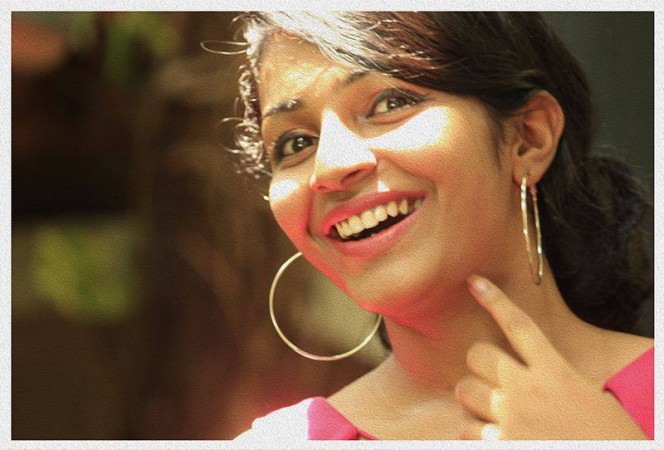 Among the Eid releases in Malayalam, the Asif Ali-Biju Menon starrer, "Anuraga Karikkin Vellam" (AKV) directed by Khalid Rahman has been garnering positive response from the audience for being a feel good movie. The family entertainer has given a platform to the talented artiste, Rajisha Vijayan, who portrayed Elizabeth aka Eli.
In an exclusive conversation with International Business Times India, Rajisha, who began her career as a television anchor, opened up on her experience in working with the team of "Anuraga Karikkin Vellam" and a lot more.
Read Anuraga Karikkin Vellam Review
Here is an excerpt from the interview with Rajisha Vijayan:
IBT: How did you get the chance to become Eli?
Rajisha: Director Rahman and cinematographer Jimshi Khalid are my friends and I knew they were making a movie, but I was not expecting to be part of the project as we had never discussed such topics. One day, he asked me if I could act in the film and described Eli's character without a script as he knew Eli more than anyone. Scriptwriter Naveen Bhasker also had a clear idea about the story. Even though I was doubtful about portraying the role, they were very confident. After a screen test and certain preparations, I was taken into the team of "Anuraga Karikkin Vellam."
IBT: What were your preparations to become Eli?
Rajisha: There was a grooming session, but Rahman never forced me to learn the dialogues. Instead he talked to me about Eli and that gradually I could be the character. We went to an architectural college as Asif and me play architects in the film. Even though there aren't any scenes in which I am seen drawing, I was asked to get trained in drawing. When I started carrying those charts, I actually felt like an architect. Also, that's when I started observing the buildings. I lived in Delhi for four years, but I never looked at monuments. Another preparation I had to do was to learn driving. I am not a good driver and it was Asif, who constantly supported me and most importantly by holding his hand on the hand-break.
IBT: Why was there a delay in foraying into entertainment industry though you had anchored many shows?
Rajisha: I was offered a few roles six months after I started anchoring in Surya TV, but I didn't accept them as nothing exciting came my way. The movies were good, but in most of them, the characters I was supposed to do had really nothing to do. They could not even be called a cameo. You know, everything happens for a good reason, and I think its a great start that I could get with "AKV." I never thought people would love my character and I am actually surprised by the audience response.
IBT: You were not seen anchoring any programmes recently, why was there a break? Which do you prefer - anchoring or acting?
Rajisha: The face of Eli has to be fresh for the audience and the mannerisms of anchoring should not influence acting. So Rahman had suggested that I take a break from anchoring. I took a break because I knew I have to concentrate on one job. While anchoring is natural and spontaneous, acting is totally different. I feel anchoring is easy, but acting is better. The only similarity is that you won't have camera fear.
IBT: Does Eli have similarities to real-life Rajisha?
Rajisha: There are similarities and differences as well. There were at times when I could not connect to the character, like constantly calling the guy, and her pestering nature. The immaturity part, yes, that I could connect well. But like Eli, I am also chirpy, emotional and sensitive. However, even if your real-life nature is similar to the character you have to portray, once you are in front of the camera, it becomes very difficult. If I could do any justice to the character, it's all because I wanted to become Eli as I loved being Eli and everything about her. All credit goes to Rahman for making me Elizabeth.
IBT: How was your experience in working with the crew members of "AKV"?
Rajisha: During the shooting, I actually felt like spending time with friends. Asif never treated me as a newbie and supported me very well. But acting with Soubin Shahir was a tough task as the way he speaks itself will make each one of us laugh. Biju Menon is a humble and sweet person. He even gifted me a book. We can learn a lot by just watching him acting. Asha Sharath is a graceful and brilliant actress who is so caring like a mother even though we had very few combination scenes. The film has helped each characters to be different; and once again all credit to the director and script writer. I feel so blessed to work with them.
IBT: What about the audience response?
Rajisha: I am still in shock. In my life, I always wanted to do at least one movie although this project came as a surprise. Eli is not like usual heroines, so I didn't know how the audience will accept her. I was scared about the scene in which I am drinking beer, but I got positive response from them for those scenes, especially from the family audience. There are so many girls like Eli and knowing that people have accepted the character makes me really happy that I cannot express through words.
IBT: Did you get appreciations from any filmmakers?
Rajisha: Yes, directors including Martin Prakkat, Abrid Shine, B Unnikrishnan, Sathyan Anthikad, and many others appreciated me. But I was very happy when I got a call from Prithviraj Sukumaran, who asked me to put in this kind of hard work in future works as well. As an artiste, I felt so happy hearing it from him. But many do not know my name as it is so difficult to remember. So, some have even asked me to change it, but since this name is my identity, I am not going to change it.
IBT: What was the biggest challenge you faced while working in your debut movie?
Rajisha: Dubbing was the biggest challenge I faced. During the shooting, I was not scared, but when I entered the dubbing studio, I started shivering for the first time. Rahman wanted me to give the voice for the character. I couldn't do the dubbing during the initial days, that's when I realised how tough it would be for dubbing artiste Bhagyalakshmi who worked in thousands of movies. Once I got the knack and balance of dubbing, I could do it and was happy to do everything possible to bring wholeness to my character. I have now decided to dub for all my future movies, no matter how difficult it is.
IBT: Do you have any god father in the industry?
Rajisha: I do not have any god father in the industry. I am a graduate in Mass Communication and Journalism from New Delhi, and I started working in Surya through proper recruitment and later in Mazhavil Manorama and multiple channels.
IBT: So, do you have plans to do continue studies?
Rajisha: I would like to, but I can't do distance education. I need to go to college and attend proper classes.
IBT: What about your upcoming projects? Will you star in any other-language films?
Rajisha: I am listening to few scripts, but nothing exciting has come so far. If I get a good project from other languages, then I am ready to do that, however, I am not a fan of mass movies. I like to be part of off-beat movies with good content in other languages.
IBT: Do you have any dream roles?
Rajisha: I am not sure if I am eligible to say all this now, but I don't want to do repetitive roles; instead I prefer to portray different type of characters. After few years, I would also like to do a grey role that has both positive and negative sides.
IBT: Do you prefer glamourous roles and item dances?
Rajisha: I am a person who is against item dances in movies, be it the lyrics or the dance moves, they always objectify women. Also, if an item dance is done by a man, then I say it is objectifying men. For me such dances are not required in any films, but there are many others who prefer to have them. So, I am not going to be someone like that. If being glamourous is about showing off body, I believe there is a thin line between being sensual and vulgar. It's all about what suits your body and character. We can never say we will not do this or that, but I have certain ethics and policies. I am sure I will never do certain roles in my life, because it doesn't suit me and I don't think I am good at it. Therefore, I don't think I will do such roles.
IBT: Now, about your family?
Rajisha: My father Vijayan used to be in Army, so I had studied in seven schools and one college. My mother is Sheela and my sister Anjusha just completed her class 12.
IBT: A personal question, which many would like to know. Do you prefer love or arranged marriage?
Rajisha: Obviously, love cum arranged marriage, but I am not going to get married anytime soon. If I get good offers in the industry, I will continue acting even if I get hitched as acting is my passion.