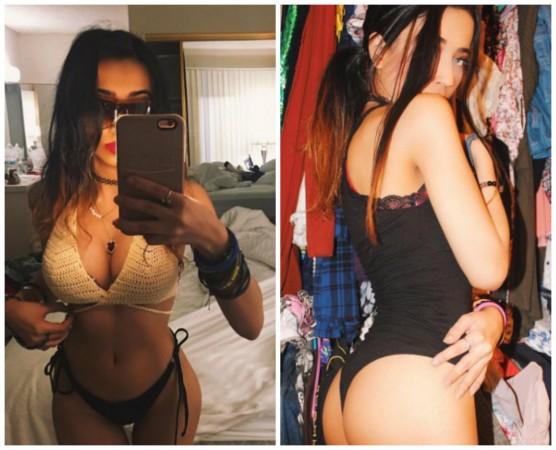 Sakshi Chopra, the great granddaughter of Ramayan director Ramanand Sagar, has now taken the Internet by storm by sharing a topless photo on Instagram.
Known for her super hot pictures on social media, Sakshi keeps teasing her followers with her bikini photos. However, now she went topless and shared a message for both her haters and her admirers.
"The human body is beautiful. Every part. Male/female. You can call me cheap, all kinds of names. I don't give a f**k. I am happy. I do what makes me happy & I suggest you do the same. If your happiness lies in covering up, do it. Do what makes you YOU. I feel confident. NOT ASHAMED. Not one bit. Don't bash what you hate, promote what you love. #bodypositivity," Sakshi captioned the photo.
Being the great granddaughter of Ramayan director Ramanand Sagar, she sometimes receives flak for flaunting her curves in such revealing outfits. However, the bold diva is not bothered about her haters and has already become an internet sensation.
Daughter of producer Meenakshi Sagar, Sakshi is an aspiring singer too. She has a YouTube channel where she posts her songs. Nevertheless, she is more known for her sizzling appearance on the Internet than her voice. She has over 3 lakh followers on Instagram, and she certainly knows how to grab attention.
The latest topless photo of Sakshi received more than 20 thousand likes, and most of the comments heap praise on her attitude. Of late, many actresses have been sharing hot bikini photos or sometimes topless pictures on Instagram. While going topless for a photoshoot is no big deal in the West, the trend is gradually getting momentum among Indian celebs as well. Check Sakshi's topless photo and some other sizzling pics of the diva: