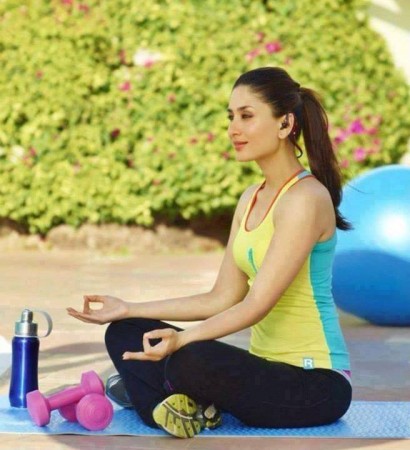 Bollywood stars are as smitten by yoga as we are by them. They lead stressful lives and work erratic shifts, for which they need to be at the peak of their fitness at all times.
They swear by yoga, and we are not just talking about the actresses. Hrithik Roshan and Anil Kapoor are some of the A-list stars who are proponents of the discipline. Among the younger lot, Tiger Shroff tried his hands at yoga while on a short visit to director Subhash Ghai's acting school Whistling Woods; he was joined by "Heropanti" co-star Kriti Sanon.
He told the press present at the venue: "I am not a regular practitioner of yoga as I am more inclined towards gymnastics and martial arts. But this initiative by WWI has enlightened me and I am encouraged to include yoga in my daily regime."
International Yoga Day (June 21) is around the corner and we are here to give you some interesting statements celebrities gave when asked about Yoga.
Kareena Kapoor Khan
She mixes Yoga with other forms of exercises in order to spice up her routine. "I do a mix of yoga, cycling, weights and cardio in my exercise regime— well spaced out so I don't get fatigued with a single discipline. I believe the right exercise mix helps keep me fit without it getting monotonous," the "Udta Punjab" star told Vogue last year.
Hrithik Roshan
Although he isn't a regular yoga practitioner, he keeps going back to the routine. The "Mohenjo Daro" actor believes that if one chooses to be fit, one must practice yoga. He usually does it when he's suffered an injury.
"There's a lot to learn in yoga. It's very spiritual. It's strengthens the joints and the bones a lot. It's a must for any person who wants to be fit," he told the media on the sidelines of an award show last year.
Shilpa Shetty
She has a DVD on yoga and a book on fitness, she must have something to say. Last year, she opened up on her journey to being a Yoga regular. "If you really want to lead a happy and healthy life then it's time to practise yoga. It targets the mind, body and soul. It is a scientific way to staying fit," Press Trust of India quoted her as saying.
She wasn't into yoga right from the start, it was a spine condition that led her to practicing it seriously. "Cervical spondylitis is not curable but with yoga it has definitely helped me preventing it to occur again," she had elaborated.
Malaika Arora Khan, Priyanka Chopra, Jacqueline Fernandez, Deepika Padukone and Sonam Kapoor are some of the other stars who believe in the power of yoga. However, they also take care to mix the routine with other exercises such a weight-training, cross-fit, pilates and such.
Here's what some of them had to say (the statements aren't timely):
Back in 2008, this was what Priyanka told the Times of India: "I also do yoga and find it both relaxing and very energising. It's great to keep your mind and body healthy. It's definitely something I would recommend."
Jacqueline: "I also attend yoga and dance classes. My yoga is not just about Suryanamaskar. I keep trying new things. I have been training with yoga instructor Deepika Mehta," TOI quoted her as saying. (this was in 2014).
In 2011, Malaika told Mid-Day that she was introduced to the discipline by Kareena and sister Amrita Rao. "I have been learning yoga for some time. Kareena and Amu (Amrita Arora) introduced me to it. Payal Gidwani has been training me. I do yoga thrice a week at home with Payal's girl, alternating it between gym and pilates. Now I really look forward to my sessions with Kareena and Amu. We are yoga junkies," she elaborated.