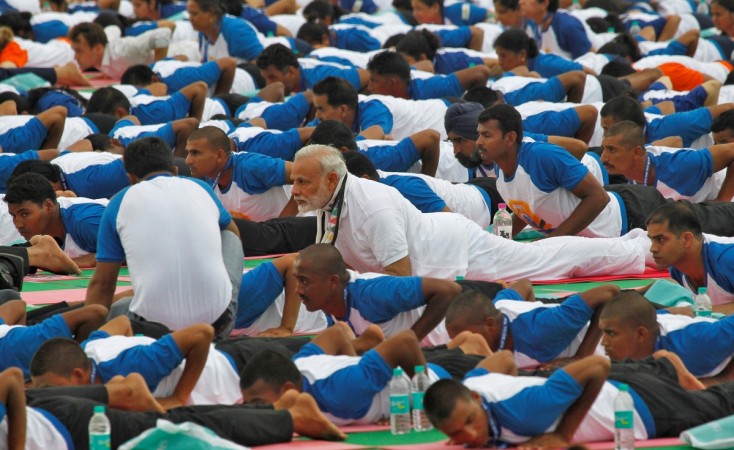 Prime Minister Narendra Modi on Tuesday led the International Yoga Day celebrations in India by performing yoga asanas with over 30,000 people during an event held at the Capitol Complex in Chandigarh.
According to the Hindu, Modi also called for the treatment of diseases like diabetes through yoga. "...with the help of yoga, diabetes can be controlled. Can we start a public campaign to suggest measures in yoga to the common man suffering from diabetes? It will be an achievement if we can help in treating diabetes. From next year, we can take another disease. We should address any one disease every year. We should run a public campaign with an aim to address one disease," he was quoted by the daily as saying.
Several leaders, including Urban Development Minister Venkaiah Naidu, Home Minister Rajnath Singh and Minister of Human Resource Development Smriti Irani, participated in the celebrations held across India.
Also, India set a new Guinness world record of 1,632 pregnant women doing yoga together, beating China's record of 913, ANI said in a tweet.
1632 pregnant women do Yoga in Rajkot. This is a Guinness Book world record breaking China's record of 913 #YogaDay pic.twitter.com/g4tiUouEfw

— ANI (@ANI_news) June 21, 2016
People from all over the world also gathered to celebrate the International Yoga Day this year. Countries like the United States of America, London, Geneva, Malaysia, China and Australia held several events to mark the day.
According to the Telegraph, yoga sessions were held in Australia on Tuesday morning in front of the Sydney Opera House with 12 yogis welcoming the first rays of the sun from atop the Harbour Bridge in Sydney. Several events on the banks of the River Thames were held by the Indian High Commissioner in London. The United Nations building in New York was also lit up with images of different yoga asanas on Monday, the daily reported.
Thousands of people gathered at the Times Square to celebrate the International Yoga Day. According to the official website of International Yoga Day, the United Nations General Assembly declared June 21 as International Yoga Day on Dec 11, 2014 after PM Modi called for its adoption in his speech to the Assembly. "Yoga is an invaluable gift of India's ancient tradition. It embodies unity of mind and body; thought and action; restraint and fulfilment; harmony between man and nature; a holistic approach to health and well-being. It is not about exercise but to discover the sense of oneness with yourself, the world and the nature", he had said.
The website states that "175 nations, including USA, Canada and China co-sponsored the resolution." It apparently had the "highest number of co-sponsors ever for any UNGA Resolution of such nature."
Thousands of yoga lovers from London to Melbourne have rolled out mats to mark the 2nd International Day of Yoga. pic.twitter.com/LwSLhnt1zA — Dr. Bharat Kanabar (@KANABARDr) June 19, 2016
South Africans celebrate International Day of Yoga: https://t.co/d6QneCW4Ke @UN @indiainjoburg pic.twitter.com/1uD76vBJmI

— SouthAfrica.info (@SA_info) June 21, 2016
UN lights up for Yoga in New York International Day of Yoga#IDY2016 #Yoga4SDGs pic.twitter.com/tFjK8AjyRP — Tanmaya Lal (@IndiaDPRNewYork) June 20, 2016
Yoga in Geneva: 2nd International Day of Yoga - 2016.#YogaDay pic.twitter.com/Rxxe66ZkX9

— Alok Kumar Jha (@jhaalok) June 21, 2016
#YogaWithNaMo International Yoga Day: Thousands are expected to attend in Times Square, NEW YORK, USA pic.twitter.com/4vTu1ScwV5 — Rosy (@rose_k01) June 18, 2016
#InternationalDayofYoga A New Day: Indian Navy personnel performing Yoga at Kuantan, Malaysia (South China Sea). pic.twitter.com/0rBzzWYZX0

— GujaratHeadline News (@GujaratHeadline) June 21, 2015