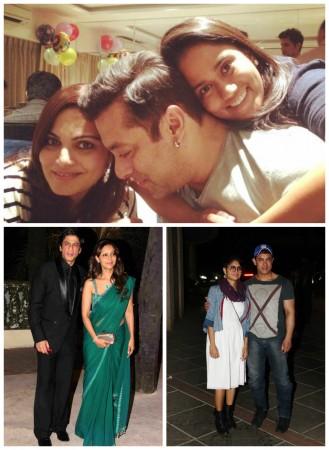 Sure Shah Rukh, Salman and Aamir Khan are self-made men, but there are these beautiful set of women who have supported them on their journey to stardom. On International Women's day, here's a look at the ladies who made a difference in the stars' lives.
That SRK loves and respects women is no big secret. He's, more often than not, surrounded by women. And there are two such people whom he mentions often and credits them for his success. Childhood sweetheart Gauri Khan and daughter Suhana. They make for an important chunk of his life as a superstar.
Despite religious differences, the actor went out of his way to assure Gauri's family that he would take care of her no matter what. The couple got married in 1991 and is now blessed with three beautiful kids – Aryan, Suhana and AbRam.
He is often seen lending support to Gauri's design projects and crediting the love of his life for the success he has achieved. "I have been married for 21 years and have beautiful children and like any normal family she keeps it all together. So, it's absolutely wonderful," IANS quoted him as saying.
The daughter, who struts along to IPL matches, is a constant driving force for SRK. He often takes to Twitter to congratulate Suhana on her achievements and also shares enthusiasm for movies with her.
Salman Khan, whose love life has been under the scanner for the longest time, has a bunch of women supporting him throughout, and it's not his girlfriends. Mother Salma Khan, sisters Arpita and Alvira Khan are ladies in his life who coached him into being a better human being than what he already is. He is often seen celebrating birthdays and festivals with them.
When asked how he would react if he lost his parents to whom he is inseparably attached, Salman said he wasn't afraid of such a day. "I believe that we 5-6 of us in our family are not together from this life alone. We have been playing father-son, mother-son, sister-daughter, brother-sister to each other life after life and we keep coming back to each other," The Times of India quoted him as saying.
The other reigning Khan, Aamir, draws support from his wife Kiran Rao. While the actor often shies away from talking about his personal life, talking to author Pradeep Chandra for "Aamir Khan: Actor Activist Achiever", he said how Kiran's entry into his life has changed things.
"Kiran has contributed a huge deal to me -- to my personality and to my very hectic fabric. I am much more relaxed ever since she has come into my life," Rediff quoted an excerpt from Pradeep's book.