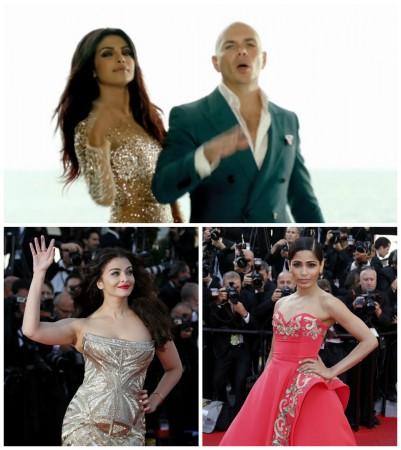 On International Women's Day 2015, here's a list of Indian actresses who made their presence felt in the international circuits as well.
Aishwarya Rai Bachchan
Aish, who first made the country proud with her Miss World title in 1994, is not called the most beautiful woman in the world for nothing. She is charming, has the best face and is also a talented artiste. Apart from being a regular at the Cannes Film Festival, which she has been a part of for a decade now, the gorgeous diva has featured in a handful of crossover films as well.
"The Pink Panther 2", "The last Legion", "The Mistress of Spices", "Provoked", "Bride & Prejudice" are some English language films she has starred in and won accolades for.
Priyanka Chopra
Making India proud, PC won the Miss World pageant in 2000 and ever since, it has been raining films for the lady. But it was only until a few years ago that the actress decided to venture into the music industry. Collaborating with international pop icons such as Pitbull and Will.i.am, her singles - "In My City", "Exotic" – soon went on to become chartbusters. Priyanka also surprised everyone when she signed ABC's "Quantico" in which she reportedly plays an FBI trainee.
Nimrat Kaur
More than her stellar performance in "The lunchbox", Nimrat Kaur is now known as the "Homeland" girl. The American political thriller features her in the role of an ISI agent Tasneem Qureshi.
Freida Pinto
This Mumbai girl has been on a roll ever since her debut film, Danny Boyle's "Slumdog Millionare" bagged the Oscars in 2008. Making quite inroads into Hollywood, this actress managed to score films such as "Immortals" and "Rise of the Planet of the Apes".
Sonam Kapoor and Mallika Sherawat can also be counted among women who have earned fame internationally. The "Khoobsurat" actress with her incredible taste in fashion has many couturiers under her spell, whereas Mallika became a household name for a while after she starred with Jackie Chan in "Myth".