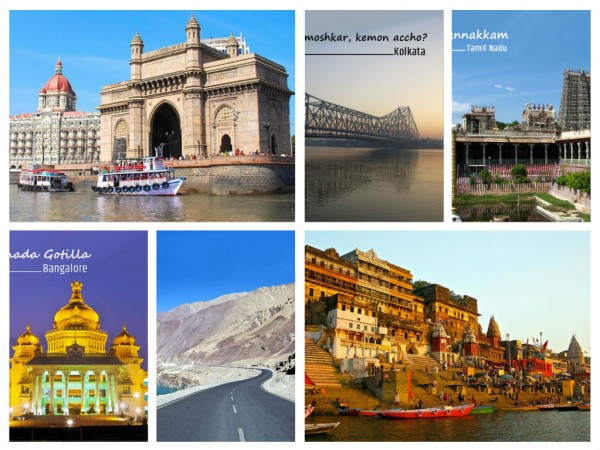 International Mother Language Day 2016 will be observed on Sunday, Feb. 21, 2016. And on the occasion, HolidayIQ has drawn a list of most common words and phrases that you must know while travelling in and around India.
Ladakh: Joollay
Joollay is a common word used by Ladakhis to say, "Hello" or to ask, "how are you?" or thanking someone. You'll get around pretty well if you keep this one handy to start conversations in Ladakh.
Mumbai: Kya Boltaay Boss?
Most of Mumbai talks in Hindi and Marathi. But, well, the Hindi is not the regular Hindi that you'd hear in any other part of the country. It has a dash of Marathi and the so-called Mawali language. Kya boltaay boss or Kya bolttaay bhidu is the most common way to ask "what's up dude" in Mumbai.
Bangalore: Kannada Gotilla
It won't take you time to realise that every local here assumes that you are a Kannadiga and starts talking to you in Kannada as if you've spent all your seven lives here. If, in case, you're stuck in this situation, you just say Kannada Gotilla, which literally means, "I don't know Kannada." Although, Yen Maga, Yen Samachara can be a good conversation starter. At least the local will realise that you're new around here.
Assam: Aapunaak Loge Pai Bhaal Lagil
Assam is nothing like people in mainland India. The only common thing is the warm locals who are always ready to help you. Aapunaak Loge Pai Bhaal Lagil means that you're please to meet them and it works every time you want to start talking to someone.
Kolkata: Kemon Achho?
While the bong food is too enticing to pay attention to anything else, Nômoshkar, is the standard greeting in Kolkatta. Adding Kemon Accho, literally meaning "How are you?" might just put a smile on a stranger's face. This one is sure to get you a warm treatment.
Tamil Nadu: Vannakkam
Vannakkam is the most common word you'd here in this part of the nation. It's used to greet someone or to welcome someone. Except for knowing this word, you should also know that every part of this state serves amazing coffee.
Varanasi: Parnaam or Ram Ram
Varanasi, the land of Gods, will show you that conversations start with God's name. Don't be funny with this one as it might seriously offend the locals.