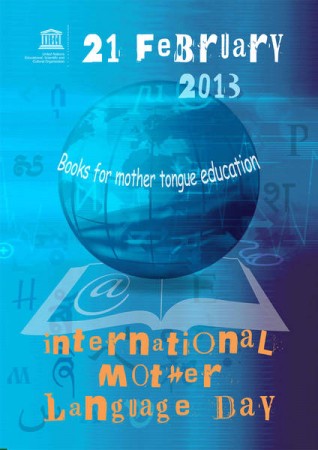 The United Nations and people all over the world are celebrating the interesting 'International Mother language Day' on 21 February 2015. The day was proclaimed by the General Conference of the United Nations Educations, Scientific and Cultural Organisation (UNESCO) in November 1999.
The United Nations General Assembly, on May 2007, called upon its member states "to promote the preservation and protection of all languages used by peoples of the world." The concept of the 'International Mother language Day' was thus created.
The first observance of the day was marked in February 2000 in order to promote linguistic and cultural diversity and multilingualism in the world. The date 21 February has a great significance in history as it represents the day in 1952 when two students demonstrating for the recognition of Bangla as one of the two official languages in Pakistan were shot dead by police in Dhaka, which was then called 'East Pakistan'.
"Languages are the most powerful instruments of preserving and developing our tangible and intangible heritage," the UN website said in a release associated with the day.
"All moves to promote the dissemination of mother tongues will serve not only to encourage linguistic diversity and multilingual education but also to develop fuller awareness of linguistic and cultural traditions throughout the world and to inspire solidarity based on understanding, tolerance and dialogue," it added
2015 is the 15th anniversary of International Mother Language Day. The theme for this year is 'Inclusive Education through and with Language – Language Matters".
The Director-General of UNESCO Irina Bokova has mentioned in her message for the day that education in the mother language is an essential part in achieving the goals of equality education, inclusiveness and promotion of education for global citizenship.
"Since 2000, there has been tremendous progress to reach the goals of Education for All. Today, we must look ahead – to complete unfinished business and to tackle new challenges. International Mother Language Day is a moment for all of us to raise the flag for the importance of mother tongue to all educational efforts, to enhance the quality of learning and to reach the unreached," she said via the official UN website.